Sofia
Sightseeing in Sofia
Free Download
Vitosha Mountain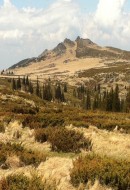 Spring and autumn are both wonderful seasons for a leisurely or not so leisurely walk up the magnificent mountain that is only 15 km away from the centre of town. In the autumn you will even find blueberries (borovinki), though the wild strawberries and raspberries are long gone.

There are many starting points, depending on where you are coming from in the city. Closest to town are Knyazhevo, Boyana, Dragalevtsi and Simeonovo. The Simeonovo gondola lift is down on the ring road and takes you up to Aleko, which in winter months is the centre of the ski resort.

From there you can walk along the plateau or take any one of many marked paths, including one right up to Cherni Vruh (Black Peak) the top of the mountain (approx. 2 and a half hours' walk each way). You can take the chair lift up or down to Black Peak to shorten the walk.

The Dragalevtsi open chair lift (up the road from Dragalevtsi village square) ends up somewhere in the middle of the plateau. Another fairly flat walk is what is known as the 'Panoramic Path' (panoramna puteka) which winds its way around the mountain above the villages. The nicest part to walk along is between the villages of Bistritsa and Zheleznitsa where some kind soul has decorated the whole path with wooden signs sporting words of wisdom and there are plenty of wooden stools and benches for a brief rest.

To find the path from Bistritsa take a right at the square and keep going straight up for around 2km until you come across the parked cars. The walk to Zheleznitsa and back is 8km.

If you want to walk uphill rather than on the flat plateau, you need to start further down the mountain. To start from Simeonovo you need to turn right after the square and follow the people entering the woods about 200m further up. The path is flat to begin with and then branches off either right towards Dragalevtsi or left towards Bistritsa on the Panoramic Path. Carry straight on following the signs to Aleko and Cherni Vruh. It's not a steep uphill but will certainly get your heart beating. Aleko is about 2 ½ to 3 hours away and you will meet plenty of other hikers if you go on a weekend.

Another popular route starts above Boyana Church and passes by the Boyana Waterfall on its way up to Zlatnite Mostove where the 'stone river' (Morenite) can be seen in its full glory.

Take a picnic if you're planning on doing the full walk up and down, and it's always wise to have something warm to put on as the temperature can change very quickly in the mountain, especially if you have worked up a sweat and then stop to rest.

Buses also drive up to the ski centre Aleko all year round.