Car parking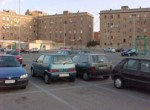 © Metropark
parchimetro
) and pay the price. Tickets should be displayed on your car windscreen. The cost depends on the parking zone you are in. Expect to pay €1/hr in the city centre. Be sure to have plenty of coins to hand as parking meters neither give change nor accept credit cards. Parking is free from 13:00 to 16:00, from 20:00 to 09:00, on Sundays and public holidays.
Many of the parking areas in the city centre are, unfortunately, presided over by unofficial 'attendants' wishing to receive a tip. Whilst these people can seem intimidating, they do not pose a real threat and the best you can do is ignore them.
Disabled parking spaces
 are available at 
Metropark Cagliari
 and 
Regina Elena Parking Garage
.