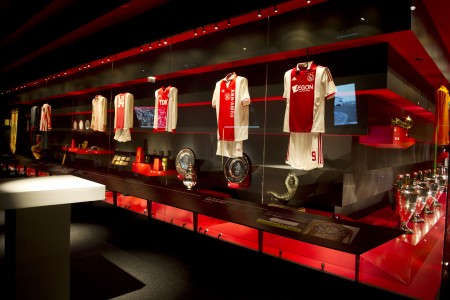 Although Ajax is no longer the great international power it once was, Amsterdam's football club is at the top of the table in the Dutch league and is still extremely popular with football tourists. The rich history of the 111-year-old club is now brought to life in the recently opened Ajax Experience on busy Rembrandt Square.
The Ajax Experience takes visitors on a journey through time, but thankfully not in chronological order. It's a compliment to the football legend that it doesn't just show the club's many achievements in this two-storey, wheelchair accessible building. Its most poignant disappointments and defeats haven't been glossed over in this modern, interactive hall of fame. After all, it's only possible to fully appreciate a sweet victory, if you've also experienced a bitter defeat. Obviously, much emphasis has been placed on its international successes, most of which were achieved in the 1970s. Of course, success at home, including a record 30 league titles, is also a hot topic here. Historical pictures and tangible memories including old kits transport fans to legendary matches in Europe's greatest stadiums.
If this all sounds interesting and tourist-worthy, then we strongly recommend making a reservation as only 18 people are allowed in per time slot. Every eight minutes a group departs under the guidance of an employee in club colours. The first highlight is the life sized portraits of heroes from the glory days accompanied by important facts from the past. Many visitors take photos of themselves next to their idols here. Don't worry. Photography is permitted throughout the building, provided your flash is turned off.
The first time you get properly acquainted with Ajax during the obligatory walking route is when you pass one of the biggest players from the past, ex-Arsenal and ex-Inter Milan giant Dennis Bergkamp. He talks about his years as a youth player at Ajax from the comfort of an enormous screen and although he tells his tale in Dutch, English subtitles are available for foreign visitors. The next room is the biggest and is the place where most football fans will undoubtedly spend the most time. All kinds of high-tech interactive devices bombard each visitor with an overload of information. If you think you're quite good at kicking a ball around yourself, you can test your skill in several different rooms where your technical ability and the speed of your shot are measured. And due to the ingenious use of unbreakable glass walls throughout the rooms, other visitors can either praise your abilities or laugh you off the virtual pitch.
The most prestigious prizes, namely the World Cup for Teams and the Champions League, are also on display. In addition to these shiny cups, less obvious items are also worth looking at such as bath robes, inscribed watches and a Golden Boot. The South African supporters' items belonging to daughter club Cape Town are some of the stranger points of interest. Fortunately, the infamous Vuvuzela wind instrument was locked away after the 2010 World Cup, so unsuspecting visitors need not fear being assaulted with the appalling screeching noise it produces. The colourful Urban Warriors helmet could easily become a big hit at the annual Dutch Carnival, but we digress.
Back on the tour you enter a tiny football stadium through an actual players' tunnel. All of the highs and lows from the past 111 years of the club's history are highlighted here by means of a fast moving film. The artificial grass and the fake stand help one imagine that they're a famous international star on the pitch. There's also a fascinating map of the world, which displays 300 lines that connect all the other clubs where Ajax players have demonstrated their talent. In some cases – including ex-Chelsea player Winston Bogarde – it seems that they chose another club just to fill their pockets by riding the pine.
Needless to say this tour ends in a shop filled to the brim with all kinds of football souvenirs. Apart from authentic football jerseys (made in Pakistan by adult labour), balls, cards, cups, caps, beer glasses, stickers and scarves are also available not to mention the most popular Dutch export product, a pair of clogs painted with the classic Ajax logo. If the tour has converted you into an Ajax fan, you can show your support straight away by buying some of its merchandise.

Contact information
B-3, Utrechtsestraat 9,
www.ajax.nl
. Open 10:00 - 18:00, Fri 10:00 - 21:00. Closed Mon. Admission: adults €17.50, children 4 - 12 €12.50.