By train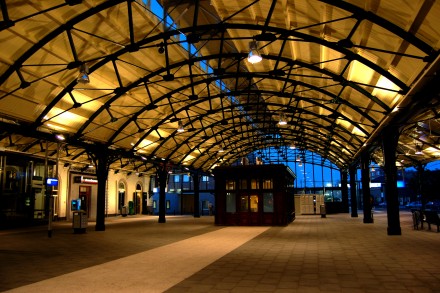 You'll arrive at one of 15 platforms and then walk downstairs into the central hall, which is full of newsstands, kiosks, fast food restaurants and shops. A GWK Travelex (www.gwktravelex.nl - open 08:00 - 22:00, Sun 09:00 - 22:00)
currency exchange
and an ATM are available near the south city centre side between platforms 1/2 and 4/5. For
toilets
that cost €0.50 you have to go up to platform 2. At the far end of the same platform are a Burger King, Ben & Jerry's, an upmarket restaurant called 1e Klass (1st Class) and a bar, Café Balkon.
For
tourist information
we recommend you exit the building on the city centre side and walk across the street to the official VVV tourist information centre (see Tourist information). Lockers for
luggage storage
are located on the far east side of the station, but it might take a while to find an empty locker and even more time to figure out how to use one. You can only pay with a credit card. Place your belongings in a locker and close the door. Find the nearest keypad that corresponds with the numbered section of lockers you have chosen. Confirm that the locker number listed is the locker you have chosen and then swipe your credit card. Just stick it in the slot and pull it out. A ticket good for 24 hours will be printed. When you want to remove your luggage just place the ticket into the slot and the door of your locker will automatically open.
Getting to town:
You are in the very centre of town and all of Amsterdam lays before you. Many of the city's best, and worst, hotels are only a short walk from here, but if you're staying in another section of town such as the Museum District you can take one of the many trams outside. Buy a ticket from the driver for €2.80. He will activate the card for you, but you have to place it up against one of the ticket readers upon exiting the tram. If you plan on using public transport frequently in Amsterdam it might be worth buying an extended ticket. Exit the train station and walk across the street to the GVB office (
en.gvb.nl
- open 07:00 - 21:00, Sat, Sun 08:00 - 21:00) to the left of tourist information to buy tickets. Free ferries to Amsterdam-Noord are available on the north side of the station on the River IJ.