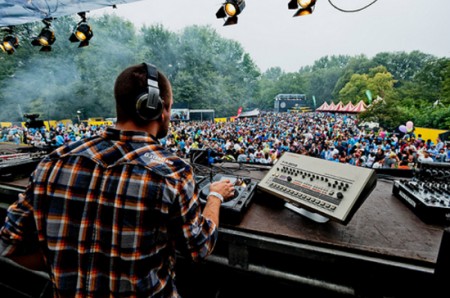 Loveland Festival
Some of the world's best festivals are held in remote locations far from the din of civilisation, but Loveland has offered green landscapes and a pastoral setting within Amsterdam's city limits since 1995. The Sloterpark in Nieuw-West will be the ideal location to get your groove on this August 10 from 11:00 - 23:00. Roughly 50 DJs will get crowds moving at six different stages, so if you're into dance music and you're in Amsterdam then don't pass up a chance to experience this event. Bear in mind that the festival fills up quickly so you might want to buy a ticket ahead of time. At the time of writing tickets cost €44 - 54. This year's headliners include Gregor Tresher live, Art Department, Magda, Marco Carola, Guy Gerber, DJ Sneak, Pig & Dan live, Remy, Sven Väth and many more. For a full line-up visit
lovelandfestival.nl
.
EdelWise Festival
On July 27, a festival filled with dance, music and entertainment will be held in the lush Rembrandt Park. The very first edition of the EdelWise Festival will be organised by the hip Edel restaurant and when one considers their legendary after-work drinks, the event will no doubt be wild! So far, the organisers have been mysterious about the programme, but apparently the festival is all about good food, drinks and entertainment. Tickets cost €37.50 and can be booked at
www.edelwisefestival.nl
.
Smaakboulevard
Due to its cultural diversity, Nieuw-West is a paradise for culinary explorers throughout the year, but if you appreciate exotic food you won't want to miss the 'Boulevard of Tastes' on September 8. With flavours from around the globe, the sounds of world music and the scenes of performing artists, this will truly be a festival for the senses. The food stalls of Smaakboulevard will line the shores of Sloterplas, but keep an eye on
www.smaakboulevard.nl
for updates and the festival's exact location.
Amsterdam 24H
For 24 hours, from 12:00 on September 8 to noon the next day the western part of Amsterdam including Nieuw-West, West and Westpoort will show off the best they have to offer. Amsterdam 24H is part of the 400-year anniversary of the city's canal belt and throughout the year, every district of the city will participate in the celebration. Amsterdam's central and eastern districts already held their own celebrations in January and March, so now it's West's turn. For 24 hours, businesses, organisations and cultural institutions will open their doors and host lots of activities to keep you busy for an entire day. For more information visit
www.iamsterdam.com
.
West Beach Film Festival
Although the words 'film festival' may conjure up images of posh people and celebs dressed in tuxedos and designer ball gowns or incredibly wealthy French people getting drunk on Champagne on the Mediterranean coast, this event is pretty much the complete opposite. There's no dress code here, so you can come in your tatty jeans and baseball cap without ridicule and you won't have to deal with burly, muscle-bound security staff eager to rough you up before tossing you to the kerb. The West Beach Film Festival is essentially an outdoor cinema experience where the public at large can screen new and classic films in a variety of languages completely free of charge next to the Sloterparkbad swimming pool. Buy a drink and some food and find a chair to relax on and get ready for fine films from around the globe. This year's event will take place on Thursday, Friday and Saturday nights from September 6 - 28. Although some of the films are in Dutch or in a foreign language with Dutch subtitles, some cinema classics in English are usually also be screened. And don't worry. If it rains everything moves indoors. Shorts and experimental films by local students are shown before most films. The grounds open at 20:00, while the main films usually begin at 21:00. Unfortunately, as we went to print this year's schedule had not yet been finalised. Visit
www.westbeachfilmfestival.nl
for the latest news and updates.
More activities
'Nice Nieuw-West' is a new government initiative that lists all events, activities and the latest news about Amsterdam's westernmost district. Check out
www.nicenieuwwest.nl
.