By train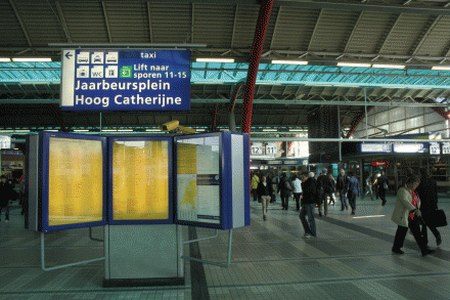 Inconvenience has been limited as much as possible but can't be avoided completely. International and domestic trains arrive here very often. Utrecht has no less than five train stations: Utrecht Central and the suburban stations Lunetten, Overvecht, Zuilen and Terwijde. There's not much to experience at the smaller stations, which is why most tourists arrive at Utrecht Central. If you get off at the central station there are two exits: the rear exit leads to the De Jaarbeurs events hall
and the front exit leads to the city centre. If you follow the signs for Hoog Catharijne you'll walk in the direction of the centre. 
Drinks & Food
The tracks run underneath the central hall. If you take the stairs up you'll find various kiosks, book shops, a music shop, a Starbucks and a chemist. Food is available at the mini-supermarket AH to-go, or you can grab a snack from the Burger King or one of the other fast food places. The large, blue departure signs are a good place to agree to meet someone in the busy hall. 
Tickets
You can buy tickets during office hours at the NS Tickets & Service desk at number 12. Although there are five desks with staff, expect long waiting times. You can also buy a ticket automatically from one of the many yellow machines, but only with coins or with a Dutch bank card. Because of the central location of Utrecht, trains go almost anywhere. There are direct trains four times per hour to Amsterdam (25 minutes, €6.70), Schiphol (30 minutes, €7.70), Rotterdam (40 minutes, €9.10), The Hague (40 minutes, €9.70), Arnhem (35 minutes, €9.40), Nijmegen (55 minutes, €12.10), 's-Hertogenbosch (30 minutes, €8.00), Eindhoven (50 minutes, €12.60) and Maastricht (1 hour and 55 minutes, €22.20). Twice an hour there are trains to Groningen (2 hours, €23.30) and Leeuwarden (2 hours, €22.60). Most other cities in the Netherlands are reachable with just one transfer. 
At night
At night there are trains once per hour to Amsterdam, Schiphol, Leiden, Rotterdam and The Hague. During the weekend there are night trains to 's-Hertogenbosch and Eindhoven. For these trains you pay the same rate as you would in the daytime. More information on timetables and rates can be found at
www.ns.nl
or
www.9292ov.nl
.  
International trains
Trains depart to international destinations several times per day: Cologne/Frankfurt (7 times per day, 2.5 - 4 hours) and one time per day a direct train to Basel (6.5 hours). At night there are overnight trains to Munich (10 hours), Copenhagen (14.5 hours), Berlin (9 hours), Prague (14 hours), Warsaw (14.5hours), Basel (10 hours), Zürich (11.5 hours), Minsk (25 hours) and Moscow (35 hours). You can buy tickets through
www.citynightline.nl
or at the
Hispeed
service desk. Prices vary from €29 - 199, depending on the moment of booking and type of payment. You can buy international tickets online at
www.hispeed.nl
or through the international ticket office at the station, beneath the large, blue departure signs. If you make use of high speed trains within the Netherlands, you have to pay a surcharge. These are available at the ticket office or the ticket machine. Tickets are for sale at the ticket machines or at the service desk. The service desk is located in the central hall, beneath the large, blue departure signs. Here you can ask for travel information and buy tickets for trips within the Netherlands or within Benelux countries. If you wish to buy international tickets to other destinations, visit the adjacent
Hispeed
service desk or book at
www.hispeed.nl
. Bear in mind that booking at the service desk costs 50 cents extra per ticket within the Netherlands and €3 for international journeys.  
National railtickets
Tickets are valid for a certain rail section, not for a certain train. A fast train is the same price as a slow train and you are allowed to get off along the way and continue your journey on a different train, as long as the trains are along the same section. There are frequent checks for tickets and fines are hefty – about €35. You cannot buy a ticket on the train, so make sure that you have a ticket before you board. If you don't have a lot of time on the day of departure, you can also buy tickets in advance without a printed date. Don't forget to stamp these on the day of travelling, however, because tickets without a date are not valid and upon inspection you won't only get a fine, you will also have to buy a new and more expensive ticket. You can stamp your ticket at the yellow stamping machines at the escalators to the platforms.  
How to buy a ticket?
The blue-yellow ticket machines are easily recognisable and can be found at various places in the central hall. They work with the help of a touchscreen and can also display a menu in English. Choose, on the left side of the screen, what type of ticket you'd like: a single ticket, a return, a 5-day ticket (5 loose returns you'll have to stamp before you board) or a weekend return (valid from Friday night at 19:00). Children under the age of 11 can travel with a discount. Next, choose your destination, first or second class, full price or discount (for discounts you will need a special discount card), whether the ticket needs to be stamped or whether it already has a printed date, the number of tickets and your payment method. The ticket machine takes all cards with a Maestro logo, in principle – but to be sure, it's safer to have some cash. The machine does not take any bank notes, but you do get change. Don't forget to take your ticket from the dispenser at the bottom left of the machine.
 
General information
Information on timetables can be found on the yellow departure signs on the platforms and in the hall. These are divided into categories based on destination, not per hour. This may mean you'll have to search a bit if you need to go to a small town, but thankfully there will be a railway map to help you. Should you feel lost, you can always ask your questions at the information desk, which is situated on the right side of the station, near the Starbucks. For actual departure information you can check the large, blue departure signs, or simply visit
www.ns.nl
.
Off-peak Discount Pass
If you stay a longer period in the Netherlands, you might consider buying a Voordeelurenabonnement (Off-peak Discount Pass). Travel cheaply outside the morning peak period is their motto. On weekdays, you receive a 40% discount on train fare for journeys made after 9.00 in the morning. The card costs €55 a year. And the price of a passport photo... And it's not only you who can benefit from this discount, because holders of this card can travel with up to three people and get the same 40% discount on the full fare. For more information:
www.ns.nl.