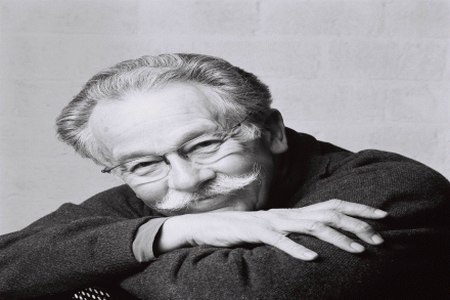 Many tourists come to the Netherlands in order to see the work of internationally known artists such as Vincent van Gogh, Rembrandt van Rijn and Johannes Vermeer.
Apart from having made unforgettably beautiful work, they have also got something else in common: that they have been dead for a very long time. One of the Netherlands' biggest artists, however, is still very much alive. Dick Bruna is the creator of Miffy (in Dutch: Nijntje), known from Tokyo to Buenos Aires; from New York to Sydney. Despite the fact that he is a multimillionaire and well past the legal retirement age, this modest Utrecht resident still works every day. From an attic in Utrecht, Dick Bruna (83) works on an ever increasing empire. If you would like to see his work, you can visit the Dick Bruna House in the city centre.
Of his many children's books, Miffy is his most well-known creation – a white rabbit with human characteristics. The first Miffy-book appeared in 1955 and since then 30 books have appeared about her experiences and they've been translated into over 50 languages. Where her name is 'Nijntje' to the Dutch, the past years she has frequently been called Miffy, Miffi or Mifi, and in the past other names have been used in, for example, French (Mouffe, Petit Lapin), German (Nientje, Ninchen), Finnish (Milla), Swedish (Lilla Kanin), Afrikaans (Kleintjie, Katryntjie), Tswana (Kleintjie), Sotho (Monyenyane, Mosetsanyana), Tsonga (Ntsongwana), Siswati (Potjana), Venda (Tshituku), Xhosa (Umifi), Papiamentu (Nènchi), Arabic (Naynti), Japanese (Usako-chan), Chinese (Mi fei), Turkish (Lâle) and Portuguese (Coelhinho). 
Amazingly, the whole world came very close to never having heard of this little rabbit from the Netherlands, because if Bruna's father had had his way, son Dick would have become a publisher at the family business which had been publishing books since 1868. As a younger man Dick helped provide over 2,000 books with a catchy cover. But his deep, inner drive to design things for himself did not stay hidden for long. In an earlier interview, Bruna had linked this to the war years, when he had gone into hiding as a teenager near the Loosdrechtse plassen (a nature reserve with lakes just outside of Utrecht). Deprived of school or any other form of entertainment, the 16-year-old Dick filled his days drawing nature and depictions of animals. After the war, he briefly studied at the prestigious Royal Academy in Amsterdam, but he quickly realised this was not for him.
In 2011, the strength of Bruna's drawings can be summarised in three ways: the use of simple colours, small, manageable books and omitting the superfluous. This holy trinity has made Bruna big. Actually, his images tell the whole story. Dick: "I think my success can be explained by the fact that I have always taken children seriously. When I draw, I always feel that a child on the other side of the table is looking straight at me. That direct quality that children possess is something you'll see reflected in all my Miffy drawings". However, the simplicity of his straight drawings doesn't miss out on the message. Each child in the world recognises a house when they see a house drawn by Dick Bruna. And whether this is an English or an Australian house; it doesn't matter. A dog is a dog and a cow is a cow. This universal recognition has made Bruna into one of Utrecht's most famous residents.
That this hardworking artist's fame has meanwhile reached global proportions hasn't change his work ethic. He still gets up at 05:00 each morning, squeezes an orange for himself and his spouse and starts the day with a drawing for her: his childhood sweetheart and the mother of his three children. "Something simple, about yesterday or today. The sheet was actually meant to cover the glass against fruit flies, but it has now become a habit." Another habit is that he then grabs his bicycle and cycles to his workplace in the Utrecht inner city, where another working day awaits him. Despite his worldwide success and the massive sums of money in his bank account, Bruna still does what has made him unique his entire life. "Working with discipline on new books, just for fun. I will continue doing this as long as I can. The stories keep coming, I keep working on them, on the drawings and the texts. I have always had the feeling that I am only about four years old."