Football: FC Utrecht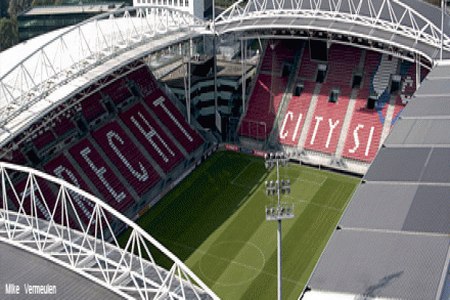 FC Utrecht was founded in 1970 after a fusion of three professional football clubs in Utrecht: DOS (founded in 1901 and national champion in 1958), Velox (founded in 1902) and Elinkwijk (founded in 1919). Home games are usually held on Sunday afternoons at 14:30.
Although they had tons of money, FC Utrecht was one of the least fortunate teams in the transfer period last season. All of their cash seemed to vanish. Its best players were sold, while relatively few players were bought. So, for the first time in decades, there aren't any high hopes for a good season for Utrecht's amazing supporters. Anything better than being relegated to a lower league will probably be a bonus.
The Galgenwaard Stadium is located at the edge of the city at Herculesplein 24 and is easily accessible by motorway. Tickets are sold at 400 TicketBox sales points across the Netherlands or at one of 28 official football club websites. For a reservation call the ticket office: tel. (+31) 308 88 55 55 or send an email to: ticketing@fcutrecht.nl. Tickets range in price from €21 - €34.
Upcoming home games:
29.09  19:45  FC Utrecht vs. Vitesse
26.10  20:00  FC Utrecht vs. FC Groningen
18.11  14:30  FC Utrecht vs. FC Twente
02.12  14:30  FC Utrecht vs. AZ
16.12  12:30  FC Utrecht vs. SC Heerenveen
23.12  14:30  FC Utrecht vs. Ajax