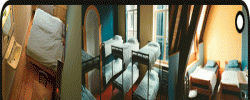 Y
ou'll discover a true backpacker's oasis i
n this 17th-century building in the middle of the centre. Strowis has clean and spacious dormitories with bunk beds spread out across three floors, with clean showers and toilets. Private rooms are also available. Strowis is equipped with all of the amenities a budget traveller might desire including a kitchen, free lockers, wi-fi, liberal opening hours, bicycle rental
for €7/day and extensive information on the city and its surroundings. Try the all-you-can-eat organic breakfast buffet for
€7, after which you can relax outside with the other guests or in the large foyer which has comfy chairs, books, a computer and a bar. Outside, the inviting garden is the perfect place to enjoy an organic draught beer. You might just forget that there's still a whole city to be discovered. Reservations recommended.
From €18.
Hostel Strowis Comments
Open:
Open 08:00-02:00, Fri, Sat 08:00-03:00.
Address:
Boothstraat 8
Phone:
(+31) 302 38 02 80
www:
http://www.strowis.nl


View in maps.inyourpocket.com