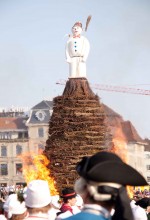 Winter lasts too long in many places
and Zurich is no exception. The
Zürcher
(Zurich's citizens) have their own solution to this problem: winter is officially chased away with the traditional spring festival Sechseläuten (
Sächsilüüte
in Swiss German). 26 Zurich guilds (
Zünfte
) parade through the city centre towards Bellevue, where the festival climaxes at exactly 18:00 when a snowman-like figure called
Böögg
(see photo on the left, copyright by Daniel Steudler) is burned. When the Böögg's head finally explodes the season of fog and cold feet is officially over (though there are no guarantees). The Böögg even doubles as a long-term weather forecast - a fast explosion of his head promises a warm and sunny summer, a long lasting fight against the fire, a cold and rainy one.
Even though considered by some
Zürcher
as a rather old-fashioned and snooty event, the Sechseläuten is
a spectacle you shouldn't miss
if you happen to be in Zurich. Thousands of participants, tens of thousands of spectators, hundreds of horses, dozens of horse-drawn wagons, bands and even a few camels on a parade in the middle of Zurich - makes a change to the standard rush hour. The parade is free, in some areas there are seats for which tickets are required.
The festival has its roots in early modern times: in April workers
celebrated the first day of summer working hours
in their guild houses. Working days were regulated by the city: in winter they lasted as long as there was daylight, in summer work ended with the toll of the church bells at six o'clock. That's where the name Sechseläuten originates. It literally means 'The six o'clock ringing of the bells'. In Zurich, the guilds used to be powerful, economic, political and military organisations. If one was not a member of a guild, one was not allowed to work as a craftsman. It wasn't until the French marched into Zurich in 1798 that the
freedom of trade
was established. The guilds became associations without any political privileges, just men's clubs with a uniform, a coat of arms and very traditional ways. But that doesn't mean they don't have any relevance today. Many say it still makes it easier to do business in Zurich if you are a member.
The Sechseläuten schedule for 2014:Sunday April 27, 14:30
Children's parade (Start at Bürkliplatz - Quaibrücke - Limmatquai - - Rudolf-Brun-Brücke - Bahnhofstrasse - Bürkliplatz - Fraumünnsterstrasse - Stadthausquai)
Monday April 28, 15:00
Parade of the Guilds (Bahnhofstrasse - Bürkliplatz
- Bahnhofstrasse - Rudolf Brun Brücke - Limmatquai - Bellevue)
18:00
Burning of the Böögg on Sechseläutenplatz (Bellevue)
afterwards
The public grills sausages on the fire