Korça In Your Pocket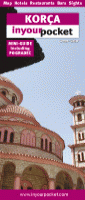 KOR-cha
) is a world away from Tirana, and is indeed close to Greece in more than one way. Locals cross the border to nearby Kastoria and further afield to Thessaloniki and Athens for the latest fashion, religious festivals, education, jobs and family visits, and many of them are fluent in both Greek and Albanian.
Korça is known for its pretty girls, its tradition of seranades, and good food. Although small, it has quite a few good sights, including an excellent icon museum, a bustling bazaar, a fantastic Byzantine-era painted church, a top-rate beer brewery and a great beer festival. In the immediate surroundings, Pogradec has a lovely lakeside setting and Voskopoja and Dardha make for great daytrips into the mountains.
The
Korça In Your Pocket
city guide is the first English language city guide to this fascinating destination.
The
Korça In Your Pocket  miniguide
, a fold-out city guide complete with maps, is available for free at hotels in Korça and Pogradec, and at Tirana's tourism information centres, and the guide is also for sale for 200 lek in Tirana's main bookshops. If you're abroad, you can
order a printed copy here
. For the thrifty and impatient, we also have the full contents available as a free PDF Instant Guide, downloadable
here
.
If you have any comments, please let us know at
tirana[@]inyourpocket. com
. Enjoy Korça.