Great lakes: Ohrid and Prespa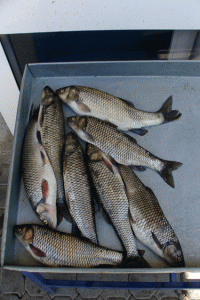 Lake Ohrid
Lake Ohrid
(Liqeni I Ohrit), the deepest tectonic lake in the Balkans (298 metres) and one of the oldest lakes in the world, formed 4 million years ago. Set at 695 metres above sea level and shared with Macedonia, one third of the 358 square kilometre surface is Albanian.
The lake is fed by various rivers (including an underground river from Lake Prespa popping up at Drilon) and exits to the north in the Black Drin. Ohrid is home to various endemic species of plants and animals, including the koran, a ancient and very tasty variety of trout, the Ohrid sponge and various molluscs.
Lake Prespa
, set at 850 metres above sea level, 20km north of Korça and shared with Macedonia and Greece, is another beautiful tectonic lake fringed by bare mountains. The whole area is a national park and is excellent for bird-watching.
The region also has important Byzantine sites – the tiny uninhabited island of Maligrad in the Albanian part of the lake has the amazing 14th-century Kisha e Shën Meri (St. Mary's church), in a cave set high in a cliff at the top of a rickety wooden ladder.
It's possible to spend the night and taste the local food (including carp, fish-stuffed byrek and meze) at modest guesthouses and restaurants in Liqenas, Goricë e Vogël and Gollomboç villages, reached by taxi or minibus from Korça. The best sandy beach is at Liqenas/Zaroshkë. Village festivals take place on various religious holidays; in Zaroshkë on 12 July, in Kallamas on 20 July and in Cerje on 28 August.
Great lakes: Ohrid and Prespa comments Add Yours