Vienna´s parks and gardens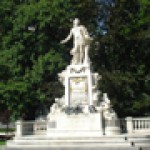 Burggarten
Burgring, Albertinaplatz
M Karlsplatz, Museumsquartier
Closed to the public until the fall of the monarchy in 1918, the Royal Garden is today one of the city's most pleasant places to walk around or have a rest on a lush lawn next to the pond. The monument to Mozart and the statue of Emperor Franz Josef proudly remind of Austria's glorious history. If you have some time to spare, enjoy exotic butterflies in the tropical surroundings at Schmetterlingshaus or have a delicious meal or a drink with friends at the Palmenhaus restaurant that features a large outdoor seating area if the weather is nice.
Stadtpark
(between Parkring and Heumarkt)
M Stadtpark, Stubentor
Open in 1862 and probably the best-known public park in the centre of Vienna, the City Park features Vienna's most recognizable landmark - - the gilded bronze statue of the king of waltzes Johann Strauss that proudly greets visitors at the end of the main alley. Austria's most famous composers, such as Robert Stolz, Franz Lehar and Franz Schubert, are among many other celebrities commemorated here by monuments and statues. The imposing renaissance building of the Kursalon, where the Strauss brothers once performed, still serves as a venue for waltz concerts, traditional balls and other special events.
Volksgarten
Heldenplatz, Dr.-Karl-Renner-Ring
M Volkstheater
This beautiful garden was first conceived in the 18th century by Empress Maria Theresa with the purpose of creating a place for the "commoners" to relax (the royal family and aristocracy had Burggarten as their domain). In the middle stands a smaller replica of the Theseus Temple in Athens. Don't miss the secluded sombre white monument to Empress Elisabeth (Sisi) and the monument to renown Austrian playwright Franz Grillparzer whose masterpieces are often staged at the neighbouring Burgtheater. On a sunny day it is a lovely place to relax among thousands of roses of different sorts and colours and watch the folks passing by.