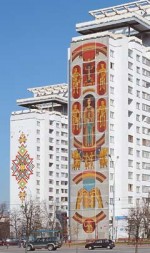 Igor Barkhatkov

Born in 1958, Igor Barkhatkov is the Minsk-born son of the well known painter Anton Barkhatkov and the singer Sofia Barkhatkova. The artist trained in the best Soviet traditions in painting and graphics, his landscapes capture the light so well that they're almost frightening in their beauty. The most interesting thing about Igor however is his hobby. Lurking in an attic room in the centre of Minsk that was once his father's studio, Igor has amassed somewhere in the region of 1,000 Soviet-era paintings, lithographs and other 2D works dating from the 1920s that, should you get a chance to see them, rank as one of the most extraordinary experiences possible in Minsk. Among them are the works of many of the leading Belarusian artists of their day including A. Barkhatkov, V. Kubarev, M. Sevruk, V. Tsvirko, B. Basov, R. Gembitsky, M. Stanyuta, E. Krasovsky to name but a few. Discerning collectors, prick up your ears! Much of this work is for sale! For further information, call us on 
tel. (+375 29) 678 27 79
.
Kounya



Translating more or less as 'smithy', Kounya is the collective name for a small community of artists who've been working together since before independence. As individuals they make a range of things including every thing from small sculptures to lovingly crafted reproductions of daggers and swords from the 16th century to complete suits of armour. Together they've collaborated on several high level projects including work for the Belarusian Ministry of Culture that now graces Mir Castle, although they don't just specialise in historical reproductions. Their work is both perfect in its craftsmanship whilst also being capable of whimsy.
Anna Balash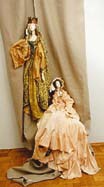 The strange and beautiful world of Anna Balash, a graduate of the Belarusian State Arts and Theatre Institute and daughter of a famous film critic, revolves around a range of bizarre, doll-like puppet figures. Anna's background is in costume design, a skill she's managed to successfully miniaturise and export around the world. Each doll takes several months to make and is fashioned from a porcelain head and material gathered from around the world. The dolls have their own personalities (and names), hide all manner of tricks and qualities about their person, and are available for commission.
Yuri Shif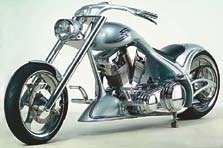 Working out of an innocent-looking squat building not far from the centre of Minsk, Yuri Shif is a world champion designer of custom motorbikes. Producing the strangest-looking ways of getting from a to b, Yuri makes bikes for the rich and famous, particularly but not exclusively for the Russians, and, if you've got the money to spare, for you too. For more information about visiting him and finding out more, go to
www.yurishifcustom.com



Viktor Kopach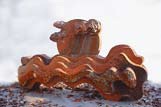 The entrance to the sculptor Viktor Kopach's studio is marked by a small plaque proclaiming the extra ordinary heritage of the place. At the top of the list is the late Zair Azgur, whose magnificent museum can be found elsewhere in this guide on p. 40. Kopach's high-ceilinged workshop is accessed via one of the wobbliest staircases in Europe but is worth the potential broken back. Born in 1970 in the region of Grodno, Kopach graduated from the Belarusian Academy of Arts in 1996 and has been active at home and abroad for the last 15 years. Well known for a recurring Tower of Babelesque theme in much of his work, he shows signs of a seriously classical training whilst managing to break a few rules along the way. When we dropped by, Viktor was hard at work on a monument for the grave of a Belarusian lady footwear tycoon.
The Shappos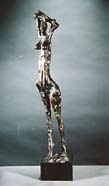 Tucked away in a corner of the Minsk Art Factory is an L-shaped workshop and studio belonging to the Shappo dynasty. We dropped by to see Alexander, the son of the colour ful Belarusian ar tist Vladimir, who was born in 1971 and who churns out a delightful array of modern sculptures and li thographs, some of them sombre and thoughtful, others pleasantly ridiculous. A former child prodigy and a genuinely gregarious character, Alexander's work, as well as the work of his illustrious family, is definitely worth further investigation.
Visitors to Minsk who'd like to know more about the artists listed on these pages and who'd like to meet them and perhaps buy or commission their work should contact Minsk In Your Pocket directly. For further information, call us on tel. (+375 29) 678 27 79.