Karlovac - A City on four rivers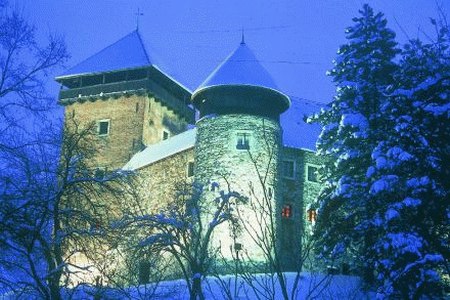 Karlovac
has been impacted from the start by the overland crossroads and the four rivers that flow through its county, which more or less have influenced the quality and potential of the city from the start. The city began as a fortified military base which was formed to dissuade any Ottoman invasions into the Austro-Hungarian Empire. As part of the empire, the city took its name (Karlovac or Karlstadt) from the Archduke of Austria, Karlo von Habsburg, who was also a military commander and had founded the site of the new city in 1578. The birth of this fortified city began with construction of the fortress on 13 July 1579. The fortress was surrounded by ramparts, bastions and a deep moat, what we see today as the Karlovac Star. The urban plan was based on the ideal Renaissance pattern where the city was situated inside the lines of the star, or walls, where all structures were erected in defined geometric blocks. Military and sacred buildings went up first, followed by palaces, squares and houses. Soon after, the city received its first inhabitants of soldiers and civilians and life began. Military houses were built larger than artisan's houses which were two-storey – the first level being the shop and upper levels for living space. All residential buildings in the historical core have wooden corridors on the backyard side, called
ganjak
. Bourgeois houses were also built for the noblemen. On the busy walkway of Radićeva street lies the house of Count Janko Drašković (1828), which portrays some stylistic features of urban palaces in Zagreb from the Zagreb architect Felbinger.
Karlovac became an important trading and merchant town but eventually the citizens demanded less military restrictions which stood in the way of their progression and so the city of Karlovac became a free royal city with its own emblem in 1781, delivered by the Emperor Joseph II. This meant they were under the special king's patronage yet they had the right to choose their own city council and mayor. From this and the next century on the city of Karlovac prospered and this was known as the golden age of trade in Karlovac. 
Unfortunately, in the 20th century two World wars to devastated the city, but most damage was caused in the recent Homeland War, its effects still noted today. As a result of this war, Karlovac declined greatly, with much damage visible in community life as well as the city's structural features. However, as of late, Karlovac has been improving in strides, some due to the strong willed and proud townsfolk, some due to the great tourist potential, some due to the rich cultural and historical value of this city.
This city is well known for its location on four rivers which really have a lot to offer. These four rivers have greatly influenced the community of Karlovac from trade to industry to survival, and they were a vital connection of inland Croatia with the Mediterranean coast. The most popular of the four is the Kupa River, where in all months of the year, especially in winter, the fishermen come to try their hand, while adventurers go rafting in spring. The Korana and the Mrežnica Rivers also have their fishing delights, yet their fresh clear waters are more enticing to the exploratory traveller, for it is here that water sports take place, especially on the wilder Mrežnica River. The Mrežnica is perfect for rafting and canoeing and has a multitude of waterfalls and cascades that, along with its warm summer waters make for heavenly swimming. The Dobra River is smaller  then former two, but is great for rafting. It's also perfect for a lazy family afternoon sailing, picnicking or for bathing in the crystal clear waters. If you take your fishing seriously, be sure to get a piece of the action in and around Karlovac. No matter what your preferences, there are plenty of spots to choose from and a rich variety of biting fish to entice you. 
Today, Karlovac is well known for its potential in recreational tourism. For the adventurous spirit, there is more than enough here to keep you entertained and satisfied. Be different! Not only is there a bevy of rolling green parks and promenades to stroll or chase butterflies in, one can enjoy a variety of walking treks, paintball, mountaineering and excursions in the national and nature parks of Karlovac County. Or for simple pleasures, take in a game of tennis, swim at the city beach or enjoy a secluded and romantic area of a tree lined river bank. Being very bicycle friendly, take a ride through the centre or outskirts of town, a perfect way to see the region in all its charm. Make use of your stay by visiting the wonderful cultural and historical sights of Karlovac….take in a theatrical performance, pop into a museum or simply enjoy the hospitality of friendly people in a number of palate pleasing restaurants. Years of hunting game here has left its mark on a rich gastronomic variety of restaurants with special culinary skills that will leave your tastebuds tantalised.
If up for an enthusiastic challenge, leave everyday worries behind and let yourself be taken in by the nature and the thrill of adventurous Karlovac!