Skate culture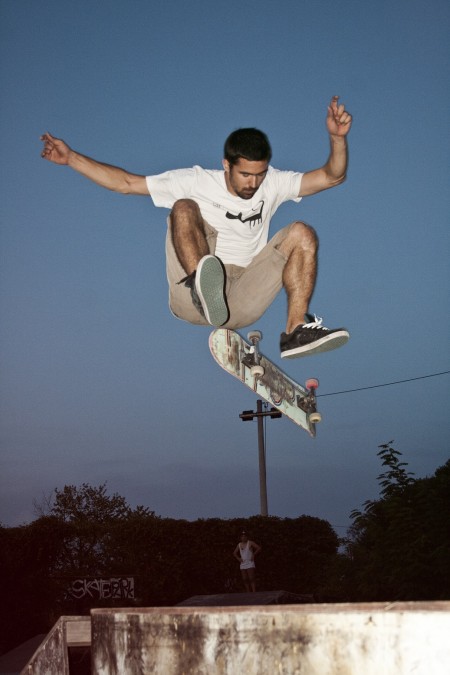 Skateboard (Juraj Spoljar, Luka Sangulin)
What do you do when you're mad about surfing but are stuck on the city streets with not a wave in sight? Nail some wheels to your surfboard and – hey presto! You can sculpt your silky skills in style. This is pretty much how the skateboard was born back in 1950s California.

Skating took off in a big way in the 1980s, popularised by the laid-back, rebellious demeanour of its aficionados. It has, of course, since spread all over the globe, spawning an entire counter-culture of art, fashion and music. Heroes such as professional skater Tony Hawk have crossed over to virtual reality with computer games making the sport cool even to the most committed couch potatoes.

Even back in the 80s when the Iron Curtain did its best to shut off eastern Europe from western cultural influences, the more relaxed regime in Yugoslavia enabled kids to get hold of boards, music and paraphernalia, and the first skate parks were born here. Centres of urban cool such as Zagreb and Split saw armies of scruffily dressed kids perfecting their skills on any available patch of concrete.

Skateboarding has often been regarded by polite society as an irritant, as much due to the sport's affinity with the punk aesthetic as to cheeky skaters whizzing round bemused shoppers on busy precincts. But there's no denying the audacity of their aerobatic tricks and it can be a spectacular sport to watch.

If you're up for busting an ollie with the locals or just checking out who's got the most gnarly style in Zagreb, truck on down to the Mimara museum – the broad tarmac area in front is where skaters mostly hang out. 

Did you know?

Norway banned skateboards between 1978 and 1989, due to the risk of injuries. Skaters built forest skate parks to avoid the plod.

In its 1999 "Urban Warrior" programme, the US Marine Corps tested skateboards as a means of transport inside buildings to detect tripwires and snipers.