Bochum intro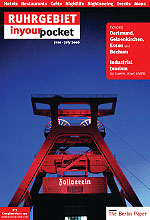 In the 20th century, the industries took a nosedive. Most of the collieries were closed by 1960, and manufacturing companies arrived to take advantage of the workforce: Opel cars opened a plant in 1961, and others, like Nokia, followed. The Ruhrgebiet's first university opened here in 1965. Today's information age has seen the corporate and financial sectors begin to dominate.
Read all about the Ruhrgebiet's industrial heritage and how to visit the highlights in our
industrial tourism feature
.
Bochum has also tried to reposition itself an entertainment centre, with its popular "Bermuda Triangle" dining and nightlife district, and the Andrew Lloyd Webber rock'n'roller-skates musical Starlight Express, which has been playing since 1988 in a custom-built 1,750-seat theatre that cost more than €12 million.
Bochum's phone code is 0234.
Enjoy Bochum, and remember to write in to tell of your experiences in town, and your opinion of this guide.
Bochum In Your Pocket
is part of the Ruhrgebiet In Your Pocket guidebook.In Your Pocket guides are sold locally at tourist offices, and distributed in selected hotels. Ask for In Your Pocket.