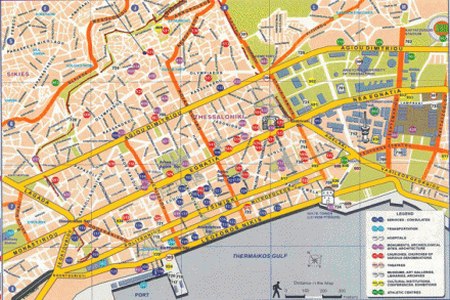 Tsimiski
Bordered by Ionos Dragoumi and OTE Telecommunications Tower.
This is where Thessaloniki puts its smartest shoes in an effort to meet the European metropolis. The melting pot of modern urbania, where the young and the beautiful flirt with their own image on display windows and where the eternal desire to see and be seen is suppressed only by the exhaustion of another day-long shopping marathon. Endless lines in front of the huge department stores' cash desks, ATM's working non-stop, traffic policemen hopelessly trying to organize the chaos, desperate taxi drivers stuck in the traffic and human beehives on pavements and pedestrian crosses. Almost anything you need can be found here: from clothes and technology devices to books and magazines in the "Ianos" store, the latter a landmark of Thessaloniki's literature history, with meetings between authors and readers taking place on a weekly basis. The "Plateia" shopping center is a universe on its own: teenagers exchange their first kisses providing a romantic canvas against the backdrop of coffee aficionados relaxing in the surrounding shops, whilst film goers order their tickets for the night at the cinema complex box office. This is a spot where you can shop, drink, dine, and watch a movie in an area of a few square meters.
Mitropoleos & Proxenou Koromila streets
Bordered by Aristotelous Square and Nikiforou Foka Street.
To put it simply, if Carrie Bradshaw landed on Thessalonikian grounds, this is where she'd start in order to embark on a serious shopping spree. For these streets are the boudoirs of expensive shops for expensive tastes. Compared to Proxenou Koromila street, Mitropoleos is somehow livelier, with trendy cafés and fast food servings of souvlaki, blending happily with the stores. On the other hand, Proxenou Koromila lives up to the ambition of being a compressed version of the Athenian Kolonaki district, providing the elite with boutiques, department stores and local designers' salons.
Leoforos Nikis (Nikis Avenue)
Bordered by Kountouriotou and Tritis Septemvriou Avenue.
A wide path of endless possibilities. A walk from the harbour to the White Tower and deep into the recently constructed Nea Paralia site, up to the Megaron Mousikis, can be as invigorating as any 3km stroll beside the sea is, and therefore could and should be rewarded with a steaming latte or a frozen freddo cappuccino in any of the magnificent cafés who, thanks to their quality of service and idyllic location have given Thessaloniki the characterization of "coffee capital of Greece". More than a habit, coffee drinking in Thessaloniki is part of the local culture and a daily visit to Leoforos Nikis is almost ceremonial to locals.
Ladadika
Bordered by Polytechneiou, Tsimiski, Salaminos, Ionos Dragoumi and Kountouriotou Streets.
The city's old industrial center once fallen into decadence has been drawn out of neglect during Thessaloniki's European Capital of Culture period, in 1997, when it was completely renovated and inhabited by a new industry, this time of the form of restaurants, cafés, bars and hotels. Its industrial origins can still be traced, especially in terms of architecture, with big, high-ceiling spaces providing the perfect environment for artists, designers, photographers, architects and media people to work during daytime, an atmosphere of complete antithesis compared to the celebratory spirit one encounters if passes by after the night falls.
Vardaris
Bordered by Monastiriou, Anagenisseos, Sidirodromikou Stathmou Streets and the New Western Gate.
An erotic epicenter of legendary status, Vardaris is the district that used to house all the city's brothels, porn cinemas, strip clubs and basically anything capable of giving the passer-by an aura of bad reputation. All this belongs in the past now, though the occasional strip club exists and the older red lights have been substituted by the red lamps of Chinese shops, since a large part of the Vardaris district, mainly around the Anagenisseos streets is rapidly turning into a local Chinatown. The recent construction of the ultra-modern City Gate shopping mall in the area came after the decision to give Vardaris district a new boost, albeit a legitimate one this time. It actually works.
Egnatia
Bordered by Agiou Dimitriou, Lagada Streets and Tritis Septemvriou Avenue.
What used to be the city's most glamorous market until the early eighties is now a poor-man's discount area, or rather a Tsimiski for the immigrant population. It's true that you won't find any of the trendy labels here, but the presence of many different cultures and languages can offer some of the most diverse and stylistically intriguing sights for the adventurous personalities. Besides, Egnatia is one of the liveliest districts of the city, with a huge market, many office buildings and countless students who choose to live in this part of the city because of the cheaper rent prices. Many sites of archaeological interest can be found here, whilst the Bit Pazar area, with its picturesque little taverns, the "meze" delicacies and homemade retsina and wines should not be bypassed without a visit.
Modiano Market
Bordered by Vassileos Irakleiou and Ermou Streets.
Balkan folklore in full glory in this district that looks like it jumped out of an Emir Kusturica film. The noisiest, most lively and colourful market of the city offers daily goods of all sorts: fruit and vegetables, fish, meat, bread and pastry, pies, nuts, herbs, spices, almost anything you can think of. The street is full of shops and once too often you can find yourself elbowing other shoppers in order to get first to the goods that caught your eye. This is where the local chefs get their supplies of secret ingredients, the housewifes their daily provisions, and the bachelors the delicacies that will turn a casual dinner into a mouth watering experience. On top of that, the Louloudadika market, the city's biggest flower market is located at the heart of Modiano. And with Thessaloniki being Thessaloniki, Modiano market transforms into a pounding clubland at night.
Navarino Square
Bordered by Egnatia, Tsimiski, Grigoriou Palama Streets and Ippodromiou Square.
A symbol of the city's diversity and multicultural spirit, Navarino Square is partly an open air exhibition, hosting some of the most interesting ancient ruins of Thessaloniki, part a surreal collage of the counterculture, with punks, metalheads, emos and rastafaris prowling the area on a 24/7 basis. Alcohol and drug consumption is part of the Navarino underground's lifestyle but it is not out of control, so the district is relatively safe at all times. Navarino also boasts some of the most interesting bookshops around, as well as a great number of second-hand record stores, (touring artists never fail to pay a visit, especially rap producers), skate accessories and folk art stores, along with the obligatory cafés and fast food stalls.
Ano Poli
Bordered by Olympiados, Eptapyrgiou, Elenis Zografou Streets and Sykies.
Universally unparalleled in its postcard-like beauty and its sublime fusion of diverse religion and ethnicity elements, Ano Poli, (Greek for Upper Town), is naturally situated at the highest spot of the city. Its architectural uniqueness, an almost theatrical reproduction of the past, is safeguarded by the state laws, so thankfully the district will remain unchanged in the future. Ano Poli is surrounded by castles of the Byzantine period and churches that date back to the 14th century. Perhaps it is this aura of local colour that attracts so many of the city's youth at the ditrict's old, but often thoroughly renovated and relatively cheap apartments.
Western Suburbs
Bordered by Lagada Street, the Thessaloniki Ring Road and Nea Ionia.
An enormous chunk of urban environment that consists of Stavroupoli, Ambelokipi, Menemeni, Evosmos, Kordellio, Ilioupoli and Nikopolis, the west side is best known as "the edge of the city". A project in the making, the western suburbs are offering new housing solutions in an ever-expanding city testing its limits. Something is constantly being built there –making the west an Eldorado for those willing to try their chances a few kilometers away from downtown.
Not much to offer to the visitor, in terms of sight-seeing, but the City Gate shopping center and especially the Moni Lazariston complex, with its museum, concert space and theater are both worth visiting.
Panorama
Bordered by Megalou Alexandrou Avenue and the Thessaloniki Ring Road.
Luxurious, green and architecturally diverse, the Panorama district is an ode to big scale, with its big houses, big swimming pools, wide roads and established colleges that educate the city's next generation of technocrats. Currently reminiscent to Athens' Northern Suburbs, Panorama was once an abandoned area that gave shelter to immigrants from Micra Asia, before its perfect spot was chosen as a fortress of the ruling class.
Kalamaria
Bordered by Themistokli Sofouli and Nikolaou Plastira Streets, Konstantinou Karamanli Avenue and Thessaloniki Ring Road.
High living standards in affordable prices within reach from the city centre. A large number of attractions await the visitor here. From the "Mediterranean Cosmos", "Apollonia Politeia" and "Macedonia" shopping malls, to the "Village Center" and "Ster Cinema" multiplexes, as well as the numerous seaside cafés and legendary fish taverns. Kalamaria area marks the Eastern limits of Thessaloniki.