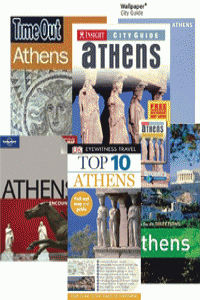 We, at In Your Pocket, strive to offer our readers  impartial, accurate, up to date and original coverage, producing travel guides based on local inside knowledge and constant research and updates, for a fraction of the price of other publications (or indeed free for download right here at inyourpocket.com).
Although we believe that each one of our In Your Pocket series guides can perfectly serve its purpose as a single and complete source of information, we understand that many of our readers also trust other international titles (as we do too when we travel to destinations not yet covered by In Your Pocket).
We have therefore prepared a (subjective) review of our favourite Athens guides' current editions, hoping to help you choose one, if you insist parting with your money, or update the one you may already have.
Lonely Planet Encounter (1st ed Jan 2009)-With pull out map £6.99
This is LP's brand new condensed Athens guide and the only new title that has come out since Athens In Your Pocket was first published a year ago. It is our favourite, as they seem to like and recommend many of the venues covered by us for the first time. While written in the familiar Lonely Planet style, the Encounter series is full of colour photography, and uses a more reader-friendly and colourful lay out compared to the classic b&w LP travel guides. Their recommendations include some upmarket choices, as they are clearly trying to diversify from their traditional budget/backpacker market. An interesting feature of the guide is the short interviews with Athenians of all walks of life giving a flavour of the city as they see it. It is unfortunate though for a guide that came out only a couple of months ago that one of these interviews is with a famous chef, Mr Peskias (pg 128), of an upmarket Athenian restaurant (48 The Restaurant, pg 120) that doesn't exist anymore. Another of their upmarket recommended restaurants Pil Poul (pg 83) closed its doors a few months ago, so booking ahead as they suggest won't be of much help. Alekos Island (pg 85) was a historic Athenian gay bar that closed down last summer and finaly On The Road summer club (pg 129) is always there but hasn't used this name since summer 2007 (Last summer it was known as BoBaYo).
We assume that this guide replaces LP's older 'Best Of Athens' so there is no need to review that too.
Editor's Marks (out of 10): Extensive: 6  Accurate: 6  Local knowledge: 8  User-friendly: 8 Value for Money: 7 Overall: 7
Rough Guide Directions  (2nd ed May 2007) £6.99
A well researched colourful Athens guide with small but nevertheless vivid everyday life photography. There is a section called 'Ideas' covering briefly things worth seeing, doing and experiencing while in Athens with cross-references to the appropriate pages. In its main section called 'Places' it presents a district by district breakdown of sights, restaurants, bars and shops, carefully balanced between touristy and 'local' establishments. The accommodation section, although relatively limited, offers a selection of hotels for all budgets, and its Greek phrases section is very useful, easy to read and comprehensive for those who like to have a go at communicating with the locals in their own language. Again, Alekos Island bar (pg 85) and Pil Poul restaurant (pg 93), as well as  Eden vegetarian restaurant (pg 72) and Nazca department store (pg 107) are long out of business. Finally, Club 22 (pg 95) has moved to Psirri (see In Your Pocket pg49), Romeo nightclub (pg137) has moved down the coast (Ellinikou 1, Elliniko) Luv club (pg 95) doesn't exist any more and Code (pg 95) is no longer a gay bar.
Editor's Marks: Extensive: 7  Accurate: 6  Local knowledge: 6  User-friendly: 7  Value for Money: 6 Overall: 6.4Time Out (3rd ed 2007) £12.99
You can't go wrong with Time Out's urban expertise. Written by a team of 'local experts' as opposed to a single visitor researcher, this guide offers comprehensive information with an emphasis on long and detailed reviews of wining and dining establishments. The accom-modation section covers all places that are worth mentioning, while it is conveniently and appropriately placed at the front of the guide (one has to pick accommodation before everything else after all). There are a few interesting ideas for trips around town and a detailed directory, while the vocabulary section is limited and somewhat user unfriendly. The gay and lesbian section is traditionally the best and most informed in the market. With this edition dating back in 2007, it is only natural that they can't avoid the occasional listings glitch. They too list Alekos Island (pg 177), On The Road club (pg 193), 48 The Restaurant (pg118) and Pil Poul (pg 111). As for the summer clubbing stuff (pgs 190-1) expect most of it to be out of date when the season starts as the summer clubbing scene of the capital is notoriously fluid with many clubs lasting for just for one season.
Editor's Marks:Extensive: 9  Accurate: 7 Local knowledge: 9 User-friendly: 7  Value for Money: 8, Overall: 8Insight Athens (3rd ed 2007) with pull out restaurant map £12.99
This is a guide that can be easily read by an armchair traveller as well as a visitor to the city. There is a long history section and features like 'food and drink', 'the Athenians', 'music' etc. Excellent pho-tography, user friendly lay out and helpful indexing make Athens Insight a top choice for those who like doing a good deal of homework before and during their travels (there is also a detailed 'further reading' section in case you develop a deep interest in the country). An easy to use pull out restaurant map/guide, complete with reviews, means that you can go out in the evening without looking a complete tourist - bulky guidebook in hand. Foresight or luck has saved these guys from including most of the establishments mentioned above that have gone out of business, so we can say that it is fairly accurate. Overall a conservative mainstream guide targeted at couples and families (don't expect many clubbing listings and gay Athens has been downgraded to a miserable entry in the directory)
Editor's Marks: Extensive: 9  Accurate: 9 Local knowledge: 7 User-friendly: 7 Value for Money: 7 Overall: 7.8DK Eyewitness Top10 (3rd ed 2008) with pull out map £8.25
A Top 10 approach to everything of interest to a visitor: Endless lists of sights, ancient Greeks, legends, inventions, museums, strolls, shops and of course restaurants and bars. If you are the bullet point type who likes well organised and presented info without the gabbing plus 3D illustrations in DK style then this is a guide for you.
The guide was published in 2008 to replace a desperately outdated previous edition, and it now goes to the other extreme, featuring a Top 10 list of the... future exhibits of the New Acropolis Museum (which according to them has been open since early 2008). The museum is actually due to open in June 2009. Hats off to this novelty of a future Top 10! Quite unfortunate too that three of their Top 10 Athenian restaurants Pil Poul, 48 The Restaurant and Kitrino Podilato (pg 56) are out of business.
Editor's Marks: Extensive: 6 Accurate: 6 Local knowledge: 7 User-friendly: 6 Value for Money: 6, Overall: 6.2Wallpaper City guide (1st ed 2007) £4.95
You wouldn't expect anything less cool and slick from Wallpaper would you? Plain cover to start with (you can't possibly go around carrying a touristy guide book!), pocket size (you don't carry a rucksack do you?), few but hand picked listings (you only want to see and do the best of the best!), all with a photograph (what would Wallpaper be without photography?) and of course a number of blank pages at the back of the book just to scribble your thoughts (you are the type who thinks a lot and takes notes while traveling aren't you?) For those 'style over substance' travellers, Wallpaper Athens is their bible of design, good taste and coolness in a capital with scarce amounts of all of them. Wallpaper is the cheapest of all the publications we reviewed and just as well because you're going to need to buy a proper guide book too.
Editor's Marks:Extensive: 4 Accurate: 7 Local knowledge: 6 User-friendly: 6  Value for Money: 5, Overall: 5.6
Needless to say that public transport costs are wrong in all of the above guides (no more €0.70 and €0.80 tickets) and of course you cannot expect to see the seasonal adjustment of the opening and closing hours of museums and archaeological sites which vary every year.
Finally, we hope you don't mind reading about the Athenian beaches during Christmas and Greek Orthodox Easter in mid August.
And one more thing: The world famous 'hole-in-the wall' Kostas souvlaki (Adrianou 116) in Plaka is one entry you will invariably find in every Athens guidebook (even LP's Jan 09 edition).

Well, do not bother to go looking for his delicious souvlaki, for Kostas went on holidays last summer and never came back to work again.

He's probably spending the money he made on the back of all this guidebook fuss, at some tropical beach far away…