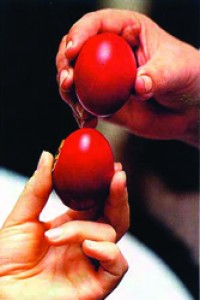 An outsider's guide to Greek Easter
Easter in Greece is not for the faint-hearted. It's heavy on symbolism, rich in tradition and dripping in calories.
In a country where religion is woven into the very fabric of society, Easter is a very big deal. But it can come as a bit of a shock if you are unprepared, so here is a guide to surviving and enjoying one of Greece's most enchanting and evocative traditions.

Get your timing right:
If you're planning to book a trip to experience Orthodox Easter in Greece, check first. There's a good chance that it won't conveniently fall at the same time as your 4-day long weekend. Though the dates occasionally coincide (like they do this year), the Greek festival usually comes a week or so after it has been celebrated in many countries.

Religious run-up:
The week before Easter – Holy Week – is marked by heavy religiosity, solemn tolling of church bells, the melodic melancholy of priests and psalters chanting, and the gradual emptying of the cities as Greeks head for their villages.
This can come as a disappointment to visitors to Athens, especially on Good Friday morning when EVERYTHING shuts. But, on the other hand, it gives you a rare chance to enjoy the city without crowds and choking traffic.
Maundy Thursday sees every church preparing an "epitaphio" – a funeral byre covered in countless blooms, which young children are encouraged to pass under throughout the day, for good luck. Come evening, however, the mood becomes much more sombre, as the epitaphio winds its way through the local streets in a symbolic funeral procession.
Fast food:
Strange as it may seem in a country where vegetarianism is considered eccentric and vegans as downright certifiable, many Greeks (even non-religious ones) swear off meat, eggs, fish and dairy products for a full week before Easter. Like so many traditions, this is based on practicality – a kind of detox before the assault on your body that will follow with the Easter feast to come.
But don't worry – you won't go hungry. Seafood, salads, pasta and a plethora of fast-friendly delights are always on offer (and, as a visitor, no-one will judge you for tucking into a plate of souvlaki).

Lighting the way:
Perhaps the most memorable part of the Greek Easter is the midnight ceremony on Saturday when everyone gathers outside their local church waiting for the priest to emerge and announce "Christos anesti!" (Christ has risen), at which point, things go berserk.
Bells peal out madly, fireworks go off (some alarmingly nearby), if you're near a port you'll hear ship horns blast, and a frenzy of kissing and cracking of painted hard-boiled eggs breaks out. As the priest makes his announcement, the light from his candle (claimed to be lit from the "Holy Flame" that ignites mysteriously and spontaneously in a sealed chamber in Jerusalem) spreads throughout the crowd, lighting the wicks of the long and often garishly decorated candles ("lambades") everyone holds.
If you plan to attend the occasion, you have been warned. Go with your own lambada in hand and be prepared for startling bangs, whizzes and being grabbed and greeted by people you don't know. But you won't regret it. It's a beautiful event – even for non-believers – as is the sight of everyone walking away from the church through the scented spring night, lit candles in hand, to the midnight feast waiting for them at home.

Food, glorious food:
In a typical Greek household, most of Easter Saturday is spent with the women in a frenzy of preparation for the coming feast. It's a heavy, heady assault on the senses - and a little rich for some of the uninitiated.
First on the menu is the traditional "magiritsa" soup served up in the deep of the night after everyone returns from church. It's not everyone's cup of tea, as it's a broth of braised goat intestines with boiled wild greens in a creamy egg and lemon sauce.
The real feast, however, comes the next day. Throughout the country, from early in the morning, roasting spits spring up over wood fires in gardens, yards, balconies, even the streets, ready for a goat or lamb to be skewered whole (head and all) and turned slowly for hours until it is cooked through to the bone, glistening in the spring sunlight and sending out mouth-watering meaty vapours. Unlike the kitchen duties, turning the spit is traditionally men's work – and they can be seen gathered in gaggles around the goat, hard at work, fuelled by endless coffees, cigarettes, little glasses of ouzo and plates of "mezes".
By the time the meat reaches the Easter platter, the table legs are heaving under the weight of the food. Meat galore is joined by glistening salads, hot crusty homemade pies, specially-baked aniseed-flavoured bread, countless red-dyed boiled eggs, cheeses, dips, and veritable rivers of wine and beer.
Then, there's dessert – homemade baklava dripping in honey, cream pies, aromatic sweet Easter bread. Maybe now you understand why the Greeks aren't big on chocolate eggs?
Easter in Greece is not for the faint-hearted (and those with weak hearts need to watch themselves too!) but, even for the most secular, it's a feast for all the senses....