Peja In Your Pocket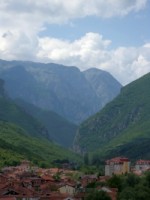 The city of Peja (Peć in Serbian) straddling the banks of the Lumbardhi river at the foot of the mighty 'Accursed Mountains'. The region around it is - if you'll forgive the cliché - a masterpiece waiting to be discovered. Some 85km west of Pristina, dating back to the time of the Illyrians and known during the Roman period as Pescium, Peja became hugely important to the medieval Serbs, who based the headquarters of the Serbian Orthodox Church on its outskirts for several centuries. 

Heavily bombed during the 1999 war, when almost the entire ethnic Albanian population fled into the mountains and neighbouring Montenegro, Peja's recovery has been little short of a miracle. 

The perfect springboard for all manner of adventures within the region, this specially written guide provides a fully impartial look at the city, the surrounding towns of Deçan, Gjakova, Istog, Junik and Klina, everything in-between and the aforementioned mountains. Heartwarmingly friendly, pleasantly affordable, refreshingly different and at times anything but European, Peja's beguiling muddle of mosques, Ottoman town houses, outdoor cafés, sizzling qebaps and spectacular mountain views deserve everyone's full attention. The journey starts here – enjoy Peja.

All comments, suggestions, plaudits and punches on the nose should be addressed to peja@inyourpocket.com.

Peja In Your Pocket will be published in 2014. See you soon.