Prizren In Your Pocket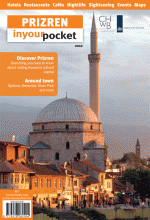 Prizren In Your Pocket cover
Picture a charming Balkan city. A city draped along the banks of a shallow river and backed by towering green mountains, a city linked to the coast and the interior by ancient trade routes, a city dotted with elegant old buildings constructed over many centuries, a city covered by snow in the cold winters and by dust in the hot summers, a city that has seen many different people and rulers come and go, a city that has seen destruction and restoration many times over, a city that has survived and overcome adversity, a city that is now looking firmly to the future.

Prizren is this city, and Prizren In Your Pocket is its first English-language travel guide, published in partnership with Cultural Heritage without Borders.

As Kosovo's 'cultural capital' with many summertime festivals and the prettiest city centre of the country, Prizren has what it takes to make an interesting destination for foreign leisure and business travellers. This old city with its young population is a great place to visit, be it on a quick stopover en route from Pristina or Skopje to the Albanian coast, or on a longer trip taking in the beautiful mountainous surroundings.


There's much to see and do near Prizren, and we have also pocketed the charming historical town of Gjakova and the ski and hiking resort of Brezovica.


Finding reliable practical travel information has always been hard in the Balkans, but with the arrival of this guide, there's a multitude of tips and ideas available at your fingertips – whether you're flipping through the print edition or clicking away on the
Prizren In Your Pocket
website.

The full Prizren In Your Pocket guide will also be available as an IYP iPhone app in October, bundled together with Pristina and Peja In Your Pocket.

This guide was written with the reader in mind, and we'd be delighted to hear from you about your experiences visiting Prizren; feel free to email us by clicking here or by leaving your own reviews in the comments field below each venue.

Enjoy Kosovo, and enjoy Prizren.