Skopje In Your Pocket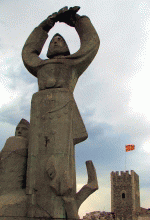 Outside of international business and political circles, Skopje, Macedonia's intriguing little capital, remains a virtually unknown city.

Growing stability in the Balkans is slowly tempting back those intrepid pioneers of industry and tourism who stopped coming to the region when the bombs started to fall, and, accordingly, your favourite independent European city guide publisher is on hand to pick up the pieces and help you get the most from this most extraordinary city.

The one time home of Byzantine officials, illustrious sultans and Communist bigwigs alike, Skopje is positively bursting with good things from pointy mosques to fashionable bars to quality hotels to the occasional world-changing example of 12th-century painting.

Absurdly affordable and refreshingly accommodating in equal measures, a trip to the Balkans that fails to take in Skopje isn't really a trip to the Balkans at all. Enjoy the city and enjoy this guide.
The growing content of the Skopje In Your Pocket print guide, due for a second and completely updated publication in 2010, can be read online here for free. If you're travelling to Skopje soon, download the complimentary Skopje In You Pocket PDF guide or order a print guide from our Pocket Store.

As always, all plaudits, brickbats and anything else you may wish to throw at us gratefully received from admirers and enemies alike at skopje@inyourpocket.com.