Katowice Sightseeing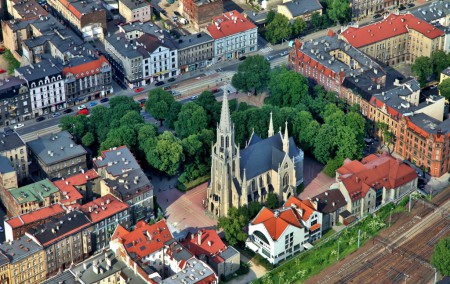 St. Mary's Church and downtown Katowice trying to look their best; photo courtesy Katowice UM
No, Katowice won't be winning any European beauty pageants any time soon (our guess is 2018), and unlike other urban casualties (hello to our friends in
Warsaw
), the city can't claim to have been beaten by the Ugly Stick during World War II. No, Katowice was born with that heirloom in its hand and the Nazis probably snatched it from here as they rumbled east to the capital. And while the Soviets returned with it after the war, destroying many of the buildings on the
Rynek
in the 1950s to make room for their modern monuments to concrete, for example, it was predestined that Katowice would never be belle of the ball. A blue collar city to this day, Katowice and its neighbours in Upper Silesia were born into the working class, growing up during the industrial revolution and put to work in sooty mine shafts, factories and railway yards. The area's history is inextricably entwined with the manufacture of coal and steel and the stacks, shafts, slag heaps and massive waves of migrants that followed the discovery of the region's mineral resources. As such, any mention of tourism in the district is usually preceded by the word, 'industrial.' Indeed the derelict factories and foundries, blackened chimneys and abandoned maintenance yards of Silesia's industrial boom represent the hulking bulk of Silesia's tourist offerings, and the region is ripe for renegade tourists eager to explore evidence of a bygone era. Those interested in industrial tourism are advised to get their creased hands on a copy of Silesia's Industrial Monuments Route - which can be picked up free of charge in any Silesian
tourist information
office - and while we've covered many of the entailed sites in this very guide, the region has plenty more to offer than we have space to include here.
Katowice, for its part, has become a growing business centre as you'll glean from the glittering capitalist monoliths built in recent decades. Those seeking more conventional interpretations of the word attraction will find plenty of
churches
including
Christ the King Cathedral
- the country's largest, one of the best museums in southern Poland in the
Katowice Historical Museum
, and anyone paying attention will notice a number of discreetly handsome townhouses, particularly along ulica 3-go Maja between the
Rynek
(C-3) and
Plac Wolności
(C-1). Conventional charm has obviously never been a strength of Katowice, however, as best evidenced by the bonkers
Spodek
building (B-3). Yes, it's always been the shaft (literally) for Katowice, and while being a tourist in this city may feel a bit like getting dressed for the theatre and ending up at a Board of Education meeting, we hope you enjoy it for its oddities, and remember that some things look most beautiful through beer goggles.