Restaurants in Gdansk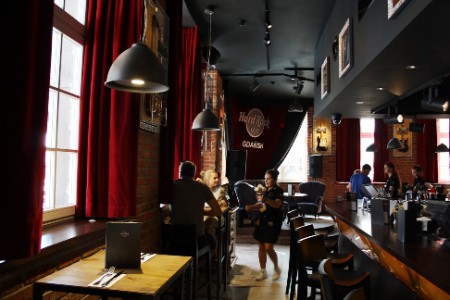 Hard Rock Cafe has arrived in Gdansk
With the number of bars and restaurants ever increasing we now find ourselves having to choose a selection of our comprehensive collection of up-to-date, independently written reviews for the print edition and this selection is designed to give you some tips and warnings as to where to spend your time and money. All of our content can, however, be found online.
Here are some recommendations depending on what you are looking for.
Local
Check out the local Gdansk cuisine in
Gdanska
or try
Metamorfoza
for a modern take on traditional local dishes. If it's pierogi you want then
Pierogarnia U Dzika
is for you while
Swojski Smak
is great for meaty moments.
Goldwasser
is one of our favourites with great food and a view over the river from their terrace. Check out their collectable sets of
Goldwasser liquer
. For local fish, then try
Targ Rybny
or
Tawerna
 while the old
Fish Market area
is now home to a collection of good restaurants offering a variety of cuisines
Cheap

The legendary Bar Pod Rybą does an excellent line in baked potatoes served with a wide choice of toppings while we love Nalesnikowo for pancakes and crepes. Alternatively take a step back in time and eat in one of the 'Milk Bars' where basic and very cheap food is served up in a pre-1989 atmosphere.

Lads

Head to Brovarnia, a posh microbrewery complimented with a strong menu, go to Masala for an Indian or test the chef's use of spice at Buddha Lounge.

Couples

Not just for couples but Filharmonia is probably the city's standout restaurant both for food and wonderful views from their terrace. For those looking for a remarkable meal in a popular restaurant, try Tekstylia. The lighting is nicely subdued, the food good, the atmosphere warm and the prices pleasing. 

Splurge
Prices are still competitive compared to Scandinavia and Western Europe so nowhere is going to have you seeing stars. For a special occasion visit the city's most historic restaurant in the former Der Lachs distillery, where Lech Walesa takes his foreign guests -
Pod Lososiem
(Under the Salmon).