Jelitkowo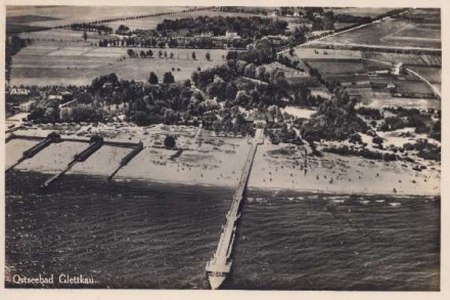 Reinhold Kamerke seems to have been the man that started to put Jelitkowo on the map. As the owner of the first inn and mill, he opened a bathing area in 1893 for those wanting to come and relax by the sea. Before long he had opened a shop, 3 more inns on Kapliczna Street and a mill by the bridge that flows over the Oliwski stream, next to today's Jelitkowo Park.
Records show that Jelitkowo was famous for its pure, crystalline iodine water and air, making it a perfect location for a resort as it was so close to an urban centre. Once it was merged with Oliwa in 1907, Jelitkowo began to attract investment turning the village into a significant bathing area. The basic existing facilities were demolished
and a new spa house was built on their site. Also in 1907, a small pier was built. Cruise ships started calling here from Gdansk and Sopot and in August 1909 a new bathhouse was opened.
Violent storms in the January of 1914 caused severe damage to the bathhouses along the coast from Stogi to Sopot. After WWI there was considerable expansion centred around the area in the middle of what is now the park. Existing properties were expanded and the Southern Bathhouse now consisted of four wings housing cabins. A pier was built out from it and by the end of the 1920s Jelitkowo has
a well organised bathing area which had become increasingly popular with people who wished to avoid the hustle and bustle of neighbouring resorts such as Sopot and Brzezno.
Gunter Grass, who would go on to win the Nobel Prize for Literature and who grew up in the Gdansk district of Wrzeszcz, wrote about his memories of Jelitkowo beach in his book Dog Years
'My father would take us all to Oliva. There we got the tram to Glettkau. The Baltic sea was frozen up to the hazy horizon. Glettkau pier ice sparkled strangely.(...) From Glettkau you walked on a crunching sea to Brösen. Black dots until the frozen steamers in Reda. A lot of people chose this route'. 
Jelitkowo was not seriously affected by WWII although the pier and bathhouse were destroyed. Other buildings, such as the inns and mill were pulled down after the war because of deterioration from neglect. The rubble was used in the adjacent park (now Jelitkowo Park).
Like other spots along the coast the village found itself disappearing through urban spread and the building by communist authorities of the nearby dormitory districts of Przymorze and Zabianka. But like its neighbours it is in the throws of a revival and the beach clubs which appear in the summer are busy throughout the season. Out of season it is still possible to discover the Jelitkowo of which Grass wrote, that of a peaceful retreat away from the hustle and bustle.