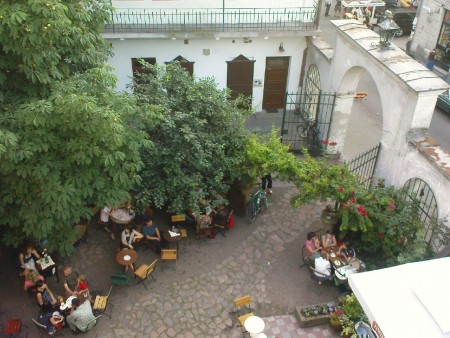 Planty
, the 
Wisła
 riverbank or elsewhere. Nor should you need to. With more bars per capita than any other city in Europe, suddenly every single one has a garden full of patio furniture the moment the sun comes out.
So which to choose? Most foreigners will keep to the 
market square
, and while the views and vibe are super, you'll find that every establishment on the market square charges 50% more for beer. Kraków's courtyards are more exciting and one of the best is 
Buddha Bar
 where DJs spin records under the stars through a narrow passageway across from the 
Mickiewicz monument
. Other Old Town notables include 
Bunkier
 - a positively huge terrace on the Planty, 
Klub Re
, 
Viva La Pinta
, and the popular nook known as 
Doubting Thomas Lane 
(ul. Św. Tomasza). Track down to 
Kazimierz
, however, to enjoy alfresco drinking at its finest – 
Plac Nowy
 is a no-brainer, though for the most scenic garden head to 
Mleczarnia
. Also, don't forget 
ul. Szeroka
 - far less lively than the rest of Kazimierz, but less grubby as well and catches sun later into the evening. For riverside drinking head straight to 
Forum Przestrzenie
 - one of the hippest locales in town.