Kraków Restaurants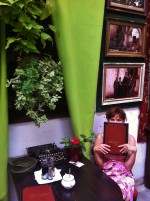 While
In Your Pocket
once listed every venue in the city, the explosion of the market and its sheer redundancy now makes that pursuit impossible. Our print guide carries a wide selection of what we feel are Kraków's most noteworthy restaurants, however there are many more listed on our website (
krakow.inyourpocket.com
) where we encourage you to leave your own reviews of the places you've visited.
All our reviews are updated regularly, completely subjective and unsolicited. The figures we quote in brackets represent the cheapest and costliest main courses on the menu. The opening hours we list are given to us by the restaurants but are rough guidelines as to when you can expect the chef to be working. Below is a list of recommendations depending on what you're looking for.
SPLURGE:
Wierzynek
(Polish)
remains the king of Kraków – the city's oldest and most upscale restaurant, right on the Rynek. The sophisticated wine list and seasonal cuisine of
Copernicus
(International) is also bankable for your best meal while in town, or if you're looking for something a bit more modern,
Szara
(International), with locales on both the market square and in Kazimierz, never disappoints
.
CHEAP:
A traditional
Polish milk bar
 (see our box) is as cheap as you'll eat anywhere with a menu in your life. For something Polish with a bit of atmosphere try
Polakowski
 or
Smakołyki.
If you're not a fan of Polish food,
Alebriche
- Kraków's Mexican eatery - is excellent, or head to
Momo
 (Vegetarian) for something healthy and – you'll never guess – green.
LADS:
Take up a stein, tuck in your bib and feast like a king for pauper prices in one of Kraków's two breweries -
CK Browar
 and 
Stara Zajezdnia
, or try 
Pod Wawelem
(Polish)
where the bathroom features a vomitorium for those who over-consume. For eating while ogling girls and the game
Chicks 'n' Champs
(see Nightlife, Sports Bars) is a no-brainer.
FAMILIES:
Located near the market square, 
Mamy Cafe
 (see Cafes) was made specifically to give parents travelling with young children in tow a bit of a reprieve; head there directly. Near Wawel,
Pod Wawelem
 (Polish) has a sizable rumpus room for kids and food that they'll eat.
COUPLES:
Kraków itself is a marvellous backdrop for romance and you shouldn't have to search far for 'the perfect place.' Make a reservation in 
ZaKładka
 (French), 
Trufla
(International) or 
Aqua e Vino
(Italian), or for a particularly memorable evening, take a cab out to enjoy the outstanding views at
U Ziyada
(International).
SPECIAL DIET:
For vegans and vegetarians the street of choice is ul. Krupnicza (A-2), where in addition to
Karma
and
Pod Norenami
, those on a gluten-free diet will find clearly marked meals in
Yellow Dog
(Asian). For traditional Polish food that's assuredly gluten-free, head to
Pod Baranem
.