Salwator Sightseeing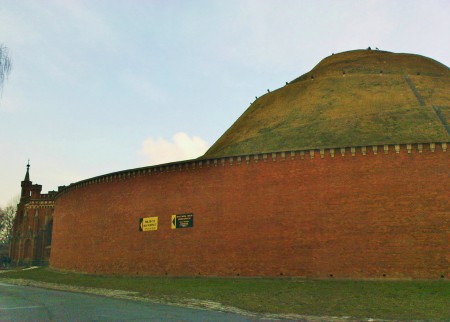 Kościuszko Mound
Old Town
between the Wisła River and the Rudawa – one of its tributaries. As such, a journey to Salwator starts at their confluence and the majestic
Norbertine Monastery
(G/H-4) – Kraków's largest sacral complex. Consecrated way back at the end of the 12th century, the Norbertine Sisters of this immaculate convent were the first female religious congregation in Poland and once held much sway and influence over the area. Until as recently as 1910, when Kraków's mayor snatched and incorporated the territory into the city proper, the Sisters of St. Norbert owned the whole area of Salwator and surrounding Zwierzyniec. Before that time the Norbertine complex extended across ul. Kościuszko and, in addition to the convent's
Church of St. Augustine and John the Baptist
, also included the two churches found at the foot of St. Bronislawa's Hill (on the street of the same name). On the left side of ul. Św. Bronisławy (G-3) stands the small and unique
Chapel of Saint Margaret
, which is included on the
Małopolska Wooden Architecture Route
, while on the right is the hoary
Church of the Holy Saviour
.
Continue up ul. Św. Bronisławy (as it turns into Al. Waszyngtona) about 500 metres on the left and you'll arrive at the Salwator Cemetery – perhaps Kraków's most picturesque necropolis. However, as you're en route, don't miss taking a quick look at the
villas on ul. Gontyna
(G-3) – a small looping alley off the main lane. Though the name 'Salwator' has more recently been applied to much of the surrounding district of Zwierzyniec (for marketing reasons), it originally referred strictly to this small 'Garden City' of 30 villas built to much hullaballoo after a 1910 design competition. One of Kraków's most exclusive residential streets, ul. Gondyna has been home to many local luminaries and celebrities, and its villas are also no stranger to architecture textbooks. The highlight of the bunch (for us at least) is the manor on the right-hand crescent with a large bust of wild-haired Medusa on the facade. Perhaps those penetrating eyes are the same that filled
Salwator Cemetery
(G-3) with an unusually great number of statues and stone effigies.
Continue up this avenue lined with ancient trees to where it bears right and you're at the foot of the
Kościuszko Mound and fortifications
(F-3), one of Kraków's most unique attractions. While you're at the top, take a turn away from the Old Town for a moment and you'll see the rolling expanse of
Wolski Forest
(Las Wolski) with the
Camaldolese Monastery
and
Piłsudski Mound
peaking out of the trees to the west. The road that lead you this far will also take you deep enough to find these further Zwierzyniec sights, as well as
Kraków's Zoo
, but bear in mind that you could easily spend an additional day just hiking throughout this scenic woodland.
Krakow » Kraków Sightseeing » What to See