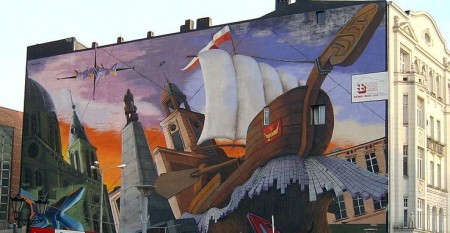 Photo: Ralf Lotys (Sicherlich)/Wikipedia
Poland's
full of 'well I never' facts, and there's no better way to impress a hot date than by telling them about
Europe's largest desert
(close to
Katowice
), or the street in
Warsaw
named after
Winnie the Poo.
 It comes as no surprise that
Łódź
also has its share of must-know facts.
Piotrkowska
is the source of a couple of them, being the home to Europe's
largest mural
, as well as being ranked as Europe's longest
pedestrian highway
. Size counts in Łódź and the city is also home to Europe's
largest cemetery
, Europe's biggest urban park (
Łagiewnicki
) and the worlds largest
Gillette
factory
. The oldest language school for foreigners can be found at
Łódź University
; they've been teaching the likes of you Polish since
1952
, while a trip to the botanical garden will leave you in no doubt that it's the largest in the country.
Łódź
experienced the fastest population rise in the world with its
population doubling
to over
100,000
during a six year span between
1872
and
1878
. It's also got the
longest tram
link in Europe, with
34
kilometres of track connecting
Zdrowie
(near the Zoo) to
Ozorków
. Finally,
Łódź
haters should make haste and pick up
John Birmingham's Axis of Time
trilogy. The
Australian
scribe loathes the city so much his book has
Łódź
as the first city to get nuked by the those pesky
Russkies
.