Poznań Restaurants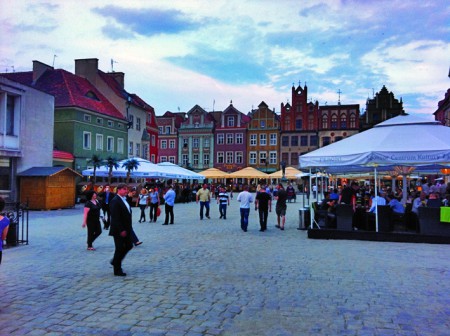 Here is a selection of recommendations depending what you are looking for.
Splurge:
Any 'Best of' list in Poznan is invariably going to see a slew of nominations for the
Blow Up Hall 50 50
. Find (very) modern versions of Polish cooking in a neo-industrial setting that couldn't be more cutting edge if it tried. For town square dining, think nowhere else but
Le Palais
, or for something out of centre the daringly modern
Hugo
is an ideal destination.
Couples:
Figaro
is so OTT you half expect to be served by Cupid himself. For something completely different why not eat in the pitch black at
Dark Restaurant
. And what could be more intimate than dining in Poznan's smallest restaurant?
Vine Bridge
promises the cosiness of only two other tables besides your own, and creative dishes you can share with your date.
Polish:
Ratuszova
is ideal for the seminal 'meat piled three feet high' experience.
Oberża Pod Dzwonkiem
serves up Polish food like pierogis and pork loin in a rustic mountain lodge setting, while
TOGA 
takes Polish cuisine and gives it a fresh, organic makeover with seasonal ingredients. 
Ethnic:
There are a few ethnic options in Poz, but most of them are not very good. To get your insides really sizzling then pay a visit to
Warung Bali
, an outstanding Indonesian restaurant that's become something of a fave. Sushi has been the big thing in Poland in recent years and
Kyokai
and
Zindo
are recommended. And if you're on the Rynek pop in to
Tapas Bar
for Spanish snacks layered with Serrano ham and spicy chorizo.
Square:
The options here can be overwhelming, but
Brovaria
is always a reliable choice for a meaty meal or beer snacks to accompany your Pils. If you're craving high quality Polish fare
Gospoda Pod Koziołkami
is the place to go for traditional food served by costumed waitresses. And the
Post Office Café
has a dual purpose: you can buy stamps and mail your postcards while sipping a latte over a light breakfast.