Poznań Restaurants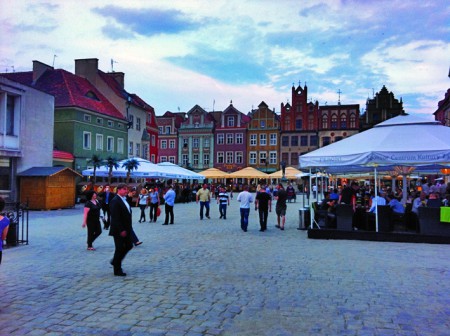 In Your Pocket
 once listed every venue in the city, the explosion of the market and its sheer redundancy now makes that pursuit impossible. Our print guide carries a wide selection of what we feel are Poznań's most noteworthy restaurants, however there are many more listed on our website (
poznan.inyourpocket.com
) where we encourage you to leave your own reviews of the places you've visited.
All our reviews are updated regularly, completely subjective and unsolicited. The figures we quote in brackets represent the cheapest and costliest main courses on the menu. The opening hours we list are given to us by the restaurants but are rough guidelines as to when you can expect the chef to be working. Where the venue is not on our map we have included the district it is located in brackets.
Here is a selection of recommendations depending what you are looking for.
Splurge:
Any 'best of' list in Poznań is invariably going to see a slew of nominations for the
Blow Up Hall 50 50
(International), where you'll find very modern versions of Polish cooking in an impossibly cutting edge neo-industrial setting. For town square dining, think nowhere else but
Le Palais
(French), or for something out of centre the daringly modern
Hugo
 (International) is an ideal destination.
Couples:
Figaro
 (Italian) is so over-the-top you half expect to be served by Cupid himself. For something completely different, think of all the naughty things you can do under the table in the pitch black of the very adventurous 
Dark Restaurant
(International)... And what could be more intimate than dining in Poznań's smallest restaurant?
Vine Bridge
 (International) promises the cosiness of only two other tables besides your own, and creative dishes you can share with your date.
Polish:
Ratuszova
is ideal for the seminal 'meat piled three feet high' experience.
Oberża Pod Dzwonkiem
serves up Polish food like pierogi and pork loin in a rustic mountain lodge setting, while
TOGA 
takes Polish cuisine and gives it a fresh, organic makeover with seasonal ingredients. 
Ethnic:
There are a few ethnic options in Poz, but most of them are sub-standard. Sushi has been the fad food in PL for several years and we can recommend
Kyokai
and
Zindo
. If you're on the Rynek, pop in to
Tapas Bar
for Spanish snacks layered with Serrano ham and spicy chorizo.
Square:
The options here can be overwhelming, but
Brovaria
 (International) is always a reliable choice for a meaty meal or beer snacks to accompany your Pils. If you're craving high quality Polish fare
Gospoda Pod Koziołkami
is the place to go for traditional food served by costumed waitresses. And the
Post Office Café
(Cafes) has a dual purpose: you can buy stamps and mail your postcards while sipping a latte over a light breakfast.