Shopping in Poznan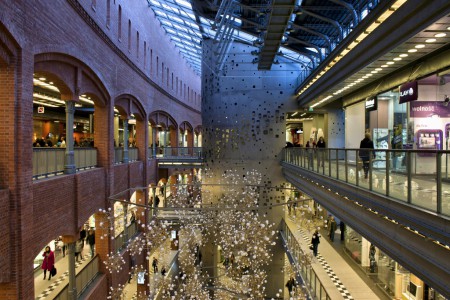 Inside the Stary Browar shopping mall; photo by Grzegorz Babicz
Stary Browar
mall or the expansive
Galeria Malta
on scenic Lake Malta and spend złoty until you've solved the European debt crisis. But if you're bringing gifts back to show your loved ones what a trip to Poznań is like, a Burberry bag made in London won't cut it. That's why we've made suggestions for what to get for your list of nearest and dearest that actually says, "I went to Poland."

WIFE / GIRLFRIEND:
Yes
is a Poland-wide chain of jewellery stores you can find in nearly any mall, however the store on Paderewskiego off the Rynek in Poznań is set up as a showcase of Polish jewellery artists that constantly rotate through the store. Find amberwood earrings by Marta Włodarska or a sparkly pendant by Tomek Ogrodowski.
HUSBAND / BOYFRIEND:
One word: alcohol. Take home any variety of Poland's famous vodka and a few bottles of local lager and you'll make any man happy.
Ministerstwo Browaru
is unique in Poznań in that it's wall-to-wall, floor-to-ceiling with bottled craft beers, while you'd have to be on a rather unique block to not see an alcohol shop where you can buy a nice bottle of vodka within walking distance.
BROTHER:
Euro2012 may be just a memory now, but you can still help your brother support the hometown team by visiting the official
Lech Poznan shop
for scarves, jerseys and all the footy paraphernalia you could ever hope to find under one roof. 
SISTER:
If sis is a stylish gal head to
Coco Boutique
near the Rynek to pick up modern designs that are sure to please – even the simple accessories will impress if you don't know her size. For high-end options visit the
Stary Browar
shopping mall, but don't let the impressive architecture distract from your mission.

CHILD:
For something a bit nicer than what the overstuffed souvenir stalls on Stary Rynek have to offer visit
Salon Posnania
, a souvenir shop where the word 'tacky' doesn't even come into play. We like the child's t-shirt with the famous City Hall butting goats comically rendered in the recognisable Poznań blue. Alternatively, you can't lose with local sweets from
Słodkie Czary Mary
.

MOM:
When we think of what mom would like, one word comes to mind:
amber
. Poland is renowned for its handsomely shaped fossilised resin, and you can easily find mom a piece of unique jewellery.
Świat Bursztynu
makes amber shopping easy since it is literally all they carry. Another option is
W. Kruk
, the oldest jewellery company in Poland and highly revered as a result.

DAD:
If your dad is anything like ours he can lose hours of his life in interesting vintage bookshops. Poznań is packed with them, and
Antykwariat
just off the Stary Rynek is one of the best for old postcards, unique prints, old books and yellowing maps from last century.