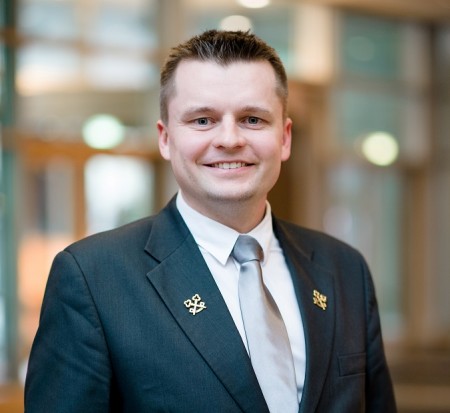 Sebastian Brodowski, InterContinental, Warsaw
Dear readers of Warsaw In Your Pocket, 
It took me some time to decide which should be the main topic of the column in this issue.
At this time of the year I am truly amazed at the sight of nature coming back to life after what is normally a cold and ugly winter. With it the city again becomes a wonderful place to spend time outdoors, taking leisurely walks or simply hanging out in the gardens of the city's cafes. I normally recommend the beautiful Łazienki Gardens, for its surprising wealth of unspoilt nature and monuments to Polish history. Łazienki and Park Skaryszewski are my favourites for their beauty and which allow you to feel far away from the city. It wouldn't be fair, however, not to mention the 'Szczęśliwice', 'Moczydło', Park Rydza Śmigłego, Pola Mokotowskie, Ujazdów, Park Traugutta, Podzamcze and many others in the vicinity of the city centre. Warsaw is a surprisingly green city and the choice is yours.
I could also focus on culture and tell you about the newest performances at the Opera, such as Nabucco, Don Kichot and Madame Butterfly. Maybe I should recommend Mamma Mia the musical that has been selling out at the Roma Theatre. You may also be interested to know that American vocalist Anastacia will perform in the Stodoła club on April 18th and Def Leppard in the Torwar Hall on May 19th. Sports enthusiasts may appreciate information on the Speedway Grand Prix of Poland on April 18th and on the Polish Football Cup Final on May 2nd (both in the National Stadium). Perhaps it would be more suitable to invite you to the labyrinth at the Oceanarium at the National Stadium which recreates the undersea world with its 3D video screens. Or maybe you would rather experience the wind tunnel and indoor skydiving near Ożarów? Then again you and your friends may have a lot of fun while trying to solve the puzzles and demonstrating your skill and ability to think logically in one of increasingly popular Escape Rooms in Warsaw. 
And now I understand that you, like me, might be feeling puzzled and hesitant. The range of options is so rich and varied that it is difficult to decide which to do first. So now it is my turn, or that of your hotel concierge to help you find the best to make the most of your visit to our lovely city. All of us are experts, with the experience, the knowledge and most of all with the passion and dedication to serve you. Knowing the city is our job and our hobby. Therefore, no matter whatever your question, whether it's about transportation or finding a hairdresser, shoe repair or a spa, all you need do is approach the smiling person in your hotel lobby.
Two heads are better than one remember. We hope to see you soon! 
Piotr Prasuła
Chief Concierge and Golden Key member
Sofitel Warsaw Victoria Hotel