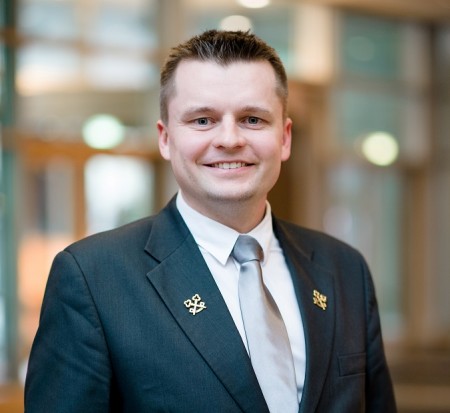 Sebastian Brodowski, InterContinental, Warsaw
Dear Visitors, welcome to Warsaw.
At the time of writing this year's winter has been quite mild, leaving us with no snow (so far) in Poland's capital city. However, the lack of snow should not stop you from participating in some traditional winter sports.
For the second straight year the National Stadium has been transformed into an 'ice park', consisting of around 5,000 sq. metres of traditional winter activities. Here you have the opportunity to skate on one of the three ice rinks, speed down a multi-lane ice slide, grab a snack or drink at the ice bar, enrol in ice skating school, relax and enjoy one of the musical events or choose from one of the many other seasonal activities. If you enjoy skating but are not comfortable gliding along the ice, a traditional skate park is available in the stadiums' parking area. The 'Winter Stadium' project will be officially closed on the 28th of February with the show 'Kings On Ice', a sports and music variety performance showcasing a number of World and Olympic winter sports champions.
Just adjacent to the entrance of the "Winter Stadium" you will find Poland's largest exhibition of LEGO blocks, including an eleven-meter model of the Titanic, the Star Destroyer from 'Star Wars', a scale model of Warsaw's Palace of Culture and Sciences and many more interesting creations.
If indoor exhibitions are your preference, you may want to visit one of the following attractions: 'How to create a museum?' in the Museum of the History of Polish Jews – a new, ultra-modern museum opened in October 2014; the "Fascinating World of Spiders and Scorpions" in the Evolution Museum, or the 'Invisible Exhibition', a guided journey through the invisible world, where you can learn how to cope in everyday situations without the help of sight – using only the senses of hearing, smell and balance.
Finally the Copernicus Science Centre, well known as one of the city's main attractions for children, has prepared something for adults as well. One Thursday each month, following normal visiting hours, Copernicus hosts a special adults-only event named "Lates" 18+. Each event has a different primary theme consisting of various entertainment, interesting programme and innovative approaches to science. Apart from visiting the regular galleries you can also enjoy various special activities, such as workshops, movie screenings, shows, games, lectures, meetings with experts, concerts and alcohol beverages.
When making plans for the month of February one cannot forget that Valentine's Day occurs exactly in the middle of 'the month of love'. This year the 14th is on Saturday so one of the most attractive options is to visit Wilanow Palace, where every hour beginning at 5:30 p.m., you can enjoy a show entitled the 'Labyrinth of Life', which incorporates light, picture and sound. The show is projected on the facade of Wilanow palace and uses its architectural elements to create an illusion of animated building. A very nice way to begin the evening! If you would like to plan for something after Wilanow Palace…ask your concierge. My colleagues and I from 'Les Clef D'Or' Poland will do our best to make this an unforgettable evening.
Wishing you great time in Warsaw, I hope you will have a chance and wish to come back to the beautiful capital of Poland.
Sebastian Brodowski
Concierge & Guest Services Manager