Romanians love banging on about the many unique natural wonders their country boasts. And indeed, from the Danube Delta to the Carpathian Mountains, there are certainly a decent number of natural sights to take in and enjoy.

The Vulcanii Noroiosi (Mud Volcanoes), near Buzau, about an hour and a half's drive from Bucharest, are not, alas, a natural wonder to boast about. Never before in Romania have we been so utterly dissapointed. Listening to any number of the Romanians who over the years have told me about this 'unique natural wonder' or 'spectacular moonscape' I was eager to get here, so much so that I dragged the entire family here on what turned out to be the hottest day of the year.

So, what did we find? A spectacular moonscape of hot bubbling mud, with smoke and violent, dramatic eruptions?

No. We found a desert-like landscape of rather small proportions littered here and there with the odd puddle of mud, like this: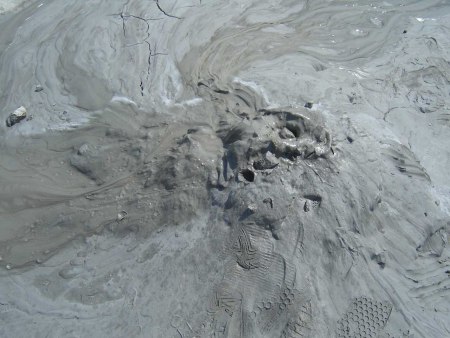 Not all that impressive at all, and certainly not worth the drive.

The next time a Romanian bangs on about this place I will ask if they have actually been there.

I am now fairly sure the answer will be negative.

For those of you still want to visit the 'volcanoes', you will need a car. Drive to Buzau, via Urziceni, and take the road to Brasov. At the village of Satuc you will see the first signpost for 'Vulcanii Noroiosi'; from there it is a simple case of following the signs, which for once are clear and correct. There is a car park and cafe at the entrance to the volcanoes, but no real visitors' centre. A sign (in Romanian only) explains how the volcanoes were found (but not formed), while a bored man sells tickets and postcards.

All in all a sorry affair, and somewhat typical of Romania.