Tickets for public transport in Bucharest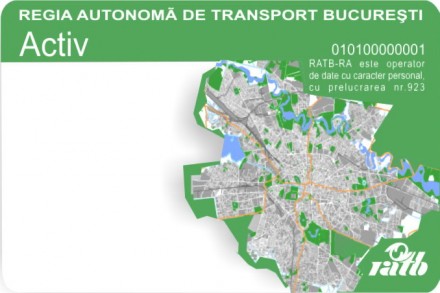 Bus, Trolleybus and Tram Tickets
Paper tickets are now a thing of the past in Bucharest, so to use a bus, trolleybus or tram you will need to buy an
Activ Card
before climbing aboard.
These cards cost
3.70 lei
, are valid on all forms of public transport (including the metro) and can be bought from the little kiosks next to major stops. They need to be loaded with credit (minimum
5 lei
, maximum
50 lei
) and are reusable: you can reload them as many times as needs be. The card is then debited each time you validate it at one of the orange devices located on buses, trams and trolleybuses, or at the entrance to the metro. One trip by surface transport costs
1.30 lei
, a metro trip costs
2 lei
. 
Ticket inspectors (
controlor
) are ubiquitous, and if you are caught without a ticket you'll pay a fine of 50 lei. Pickpockets are rife on all forms of public transport in Bucharest.
Metro Tickets
Tickets valid for two journeys cost
4.00 lei
, tickets valid for ten journeys cost a bargain
15.00 lei
. You can also buy a day-ticket for the amazingly low price of
6.00
lei
.
Activ
cards can be used on the metro:
2 lei
will be deducted from the card for each trip.
Joint RATB & Metro Tickets
You can now buy joint bus and metro tickets, valid not just for one or two journeys but for an unlimited number of journeys over a designated period of time.
A
60-minute
RATB
(bus, tram, trolleybus) and metro ticket costs 5 lei, while a
24-hour
ticket (
abonament de o zi
) costs 16 lei. 
Tickets are valid from the moment they are electronically franked on a bus or at a metro station, and must be franked at the start of each journey. Also - and this is a bonus - they are valid until the end of the last journey you make. So if you get on a bus or metro one minute before your ticket expires, you can still complete your journey without being fined.
You can also buy a book of ten 60-minute tickets for 30 lei.
NOTE
:
On all forms of public transport children under the age of seven travel free. After that age they need a full-price ticket.