Bucharest Taxis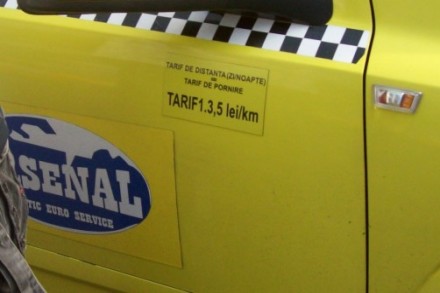 Bucharest's dodgy taxi drivers have a refreshingly liberal sense of equal opportunities. Basically, when it comes to ripping people off, they view anyone as fair game. Locals, foreigners, young, old, male, female: anyone who steps in the wrong kind of taxi can expect to be well and truly buggered.

The important thing to remember when getting into a taxi in this city is that there are two kinds: those which are operated by a tried and trusted taxi company (good) and independents (bad). The problem is spotting the difference.

By and large, trustworthy taxis are easy to spot as they are emblazoned with the name and phone number of the company they are associated with. To counter this, the independents have also started to plaster phone numbers over their cars, alongside copy-cat logos that look cunningly like those of decent taxi companies. 

They also try other tricks. 

In the photo above, all appears well at first glance. The tariff is a cheap as chips 1.35 lei.

Except it isn't.

Look again: Tarif 1 is 3.5 lei. A hell of a lot more than 1.3 lei.

As a rule of thumb, do not get into any taxi displaying the words Taxi Bucuresti or Taxi Arsenal: these are usually a lot more expensive than standard taxis. 

Never pay more than 1.69 lei per kilometre.

Be extra careful when getting into a taxi around Gara de Nord, Baneasa Airport, Bucuresti Mall, Piata Universitatii, Piata Unirii and the Old Town / Lipscani area. When leaving a hotel or restaurant, always have the concierge or waiter order you a cab.

At Otopeni Airport, ignore any taxi drivers who approach you in the arrivals hall, and use the new taxi ordering system. More about that and arriving at Otopeni in the Arriving chapter.

The best way to avoid being ripped off however is to pay careful attention to the tariffs, displayed on the driver and passenger door of all taxis.

There should just be one single tarif displayed, and anything higher than 1.69 lei per kilometre should start alarm bells ringing.

Some of Bucharest's taxi companies now have smartphone apps which make use of your phone's GPS capabilities to get the closest taxi to you as fast as possible.

The best is from Star Taxi. The Android version is here.
As an alternative to the standard taxis, there are also now a couple of companies offering a more professional service - and smarter cars - than a standard taxi. These are Black Cab and VMS CityShuttle. Black Cab is a taxi service which offers cabs at much the same price as standard taxis, the only difference being that there is a minimum charge (14 lei). Regular users can pay monthly, and - best of all - Black Cabs will travel to the suburbs (Pipera and the like: many ordinary taxis will not). Black Cabs cannot be hailed on the street, but can be pre-ordered in a number of ways. Take a look at blackcab.ro. VMS CityShuttle is similar, with all fares being a fixed price. They also offer airport transfers and run tours of Bucharest and its surroundings, as well as the Prahova Valley and southern Transylvania. See the website cityshuttle.ro for more details.
Uber is also now present in Bucharest, so if you have an Uber account and the app your phone you can use it while in the city. Prices are much the same as standard taxis, except that there is a minimum fee of six lei.

More on avoiding Bucharest's dodgy taxis and the tactics they use over at Bucharest Life. 
Bucharest » Public Transport in Bucharest » Taxis