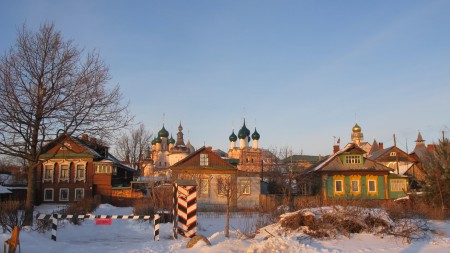 Rostov Veliky
A hidden gem of the Golden Ring
Text and photos by Louise Whitworth 
 
This tiny lakeside town, around three hours from Moscow along the route between Sergiev Posad and Yaroslavl, is a far too often over-looked gem of Russia's Golden Ring of medieval towns and villages. The centre of the town, whose foundation dates back to the 9th Century, is dominated by a gigantic white walled Kremlin - regarded by some to be the finest Kremlin outside Moscow. Down by the lake shore which is lined with colourful wooden houses, visitors are treated to an outstanding city view that seems straight out of a Russian fairytale. And if that's not enough to tempt you to make the three hour trip out here; there are also opportunities for fishing, rides on a snow mobile, boat trips in the summer and a visit to a real traditional Russian banya. Take it from us, this is an all round brilliant destination for a quiet and relaxing weekend away. 
The Rostov Kremlin
Rostov's impressive Kremlin was built in the 17th Century under the orders of the powerful Metropolitan Iona of Rostov. He wanted the town (which in those days still wielded some power in the region) to have one of the most beautiful Kremlins in the country and to that end he dug deep into the church's coffers to build this imposing fortress.
Nowadays within the Kremlin walls there are numerous museums, although unfortunately most of them are of little interest to foreign visitors. It is however well worth climbing up the Kremlin walls and the bell tower, taking a look in the cathedral and checking out the regular art exhibitions. The Kremlin also has its own trapeznya café selling inexpensive soups, pies, pancakes and other snacks. 
In front of the Kremlin is the huge 12th Century Dormition of Mary Cathedral, which is in essence a working church - although it should be noted that inside it is undergoing a complete renovation. For a small extra fee you can also climb up the adjacent bell tower for a view over the surrounding area. 
The Rostov Kremlin 
Rostov Veliky. Tel (+7) 485 366 17 17, 
www.rostmuseum.ru
Khors gallery
Walking down the hill from the Kremlin you will soon reach the quirky Khors gallery, the lakeside home and personal exhibition space of local artist Mikhail Selischev. As well as displaying his enamel based artworks, the gallery is also home to a small 'museum' which is filled with old samovars, spinning wheels, fabrics, balalaikas and other antique bits and bobs donated by locals. 
The traditional wooden house structure also has a lovely garden, a roof top look out (called the 'observation deck') and simple village-style guest rooms for rent if you would like to stay the night. The guesthouse also has a real Russian banya and offers barbeques and boat trips in the summer for visitors, as well as occasional classes in enamel art.
Khors Art Gallery
 Ul. Podozerka 31, Rostov Veliky. Tel. (+7) 485 366 24 83, 
khors.org
Where to eat and drink 
There's little going on in Rostov Veliky in terms of dining, so expect basic surroundings with basic food at low budget prices. Having said that, there is one rather smart Russian restaurant, the 
Russkoye Podvorie
, which has its own traditional stone oven (
pech
) where they cook up porridge, pancakes, pies, stews and the like according to ancient local recipes. It's also a good place for trying traditional Russian drinks such as kvass and homemade honey mead flavoured with pine or apples.
Russkoye Podvorie
 Ul. Marshala Alekseyeva 9, Rostov Veliky. Tel. (+7) 485 366 42 55,
www.russkoe-podvorie.ru
Hotels in Rostov Veliky

Russkoye Podvorie
 Ul. Marshala Alekseyeva 9, Rostov Veliky. Tel. (+7) 485 366 42 55,
www.russkoe-podvorie.ru

Khors Art Gallery and Guesthouse
 Ul. Podozerka 31, Rostov Veliky. Tel. (+7) 485 366 24 83, 
khors.org
Podozerka
 Ul. Podozerka 33, Rostov Veliky. Tel. (+7) 495 643 30 84, (+7) 915 969 51 15 (mobile phone), 
www.podozerka.ru
HOW TO GET TO ROSTOV VELIKY:

Trains to Rostov Veliky leave from Moscow's Yaroslavsky station (metro Komsomolskaya). Note that the train station is named Rostov Yaroslavlskynot Rostov Veliky. As there are only a few trains a day, the seats sell out very quickly so we recommend you buy your tickets at least 4 or 5 days in advance. The train station itself is a 15minute walk from the town centre, simply cross the road and walk directly straight ahead with the station directly behind you.
The town is a 3 to 4 hour drive from Moscow (depending on traffic) along the Yaroslavsky highway.
Trains from Moscow to Rostov Veliky:
Departs: 08:20 - Arrives: 11:19
Departs: 12:30 - Arrives: 15:51
Departs: 19:10 - Arrives: 22:02
Trains from Rostov Veliky to Moscow:
Departs: 08:02 - Arrives 11:13
Departs: 12:11 - Arrives: 15:43
Departs: 19:58 - Arrives: 22:53