Russian trains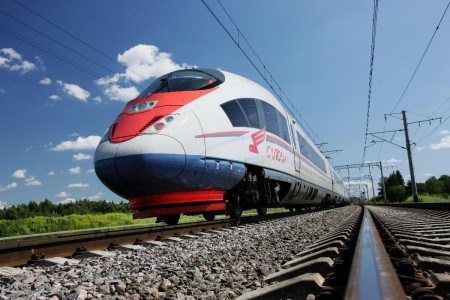 Express trains
Almost all Russian trains are long-distance ones (for obvious reasons) although between St. Petersburg and Moscow there is also a super flashy express train called Sapsan which travels between the cities at great speeds and completes the journey in just 4 hours and now services Nizhny Novogorod. The other nice addition to the family is the Allegro train which has almost halved travel time between Helsinki and St. Petersburg to 3.5 hours and allows passengers to enter visa-free for a maximum stay of 72 hours.
Long-distance trains
The majority of the trains tracing their way across the country tend to go over-night. Between Moscow and St. Petersburg dozens of night trains leave every evening, taking anything from 8 to 12 hours to complete the journey. Heading further a field journeys can take anything from 30 hours (Moscow – Sochi), to 6 days (Moscow – Vladivostok).
There are generally three classes of compartments in these trains:
1st class (Luxe)
- These cabins have only two beds in them (so plenty of space) and are usually complimented by free drinks and flowers on the table.
2nd class (Kupe)
- Kupes usually have four beds in them and are probably the most comfortable in terms of price and luxury.
3rd class (Platzkart)
- The third class platzkart is the class that most of the average Russians take as it is the cheapest. Here the carriages are open so there are no doors and you have to share the space with the smells and snores of everyone. The beds are accordingly shorter and you have to make up your own bedding roll. Beds on the side (
bokovye
) are particularly short. The experience can be claustrophobic and hot and the queues for the toilets endless, but at the same time the meetings that you will have with Russians in the platzkart can be amongst the most memorable.
Buying tickets at the station
If you like torture, buy your tickets from the ticket windows (kassa) at one of the train stations. We recommend going at 6am on Sunday morning when there are less people. People in the queues are not shy and retiring types and will push in all over the place so keep your wits about you and don't be afraid to get pushy. When choosing a ticket window, ensure they are not due to take a break in the next hour or two.
Most cashiers don't speak English so it can be handy to write down on a piece of paper the dates and times that you would like to go and try to copy down the name of the city – for example москва (Moscow) – in Russian just for clarity. You can always buy from a ticket agency for a less painful experience, they will usually charge you around 200Rbl commission per ticket.
Online booking
It is possible to buy tickets online too. The official booking site is
www.rzd.ru
. It does have an English version too but it does not always work and usually the booking page itself is usually only available in Russian, so it is useful to get a Russian speaker to help you. Bear in mind you can only pay with credit cards (no debit cards) when buying online.
When you have booked you need to take your booking number and passport with you to collect the ticket at the station. In the ticket halls there are machines where you should type in the booking number and your passport details and the machine will print you a ticket.