Peterhof and Strelna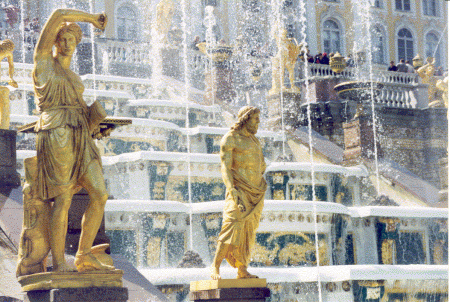 Peterhof
Accurately referred to as the 'Russian Versailles', to visit Peterhof is to travel back over three centuries in time to an era of unchecked ambition, limitless power and opulent beauty. Like many of Peter the Great's projects, Peterhof was conceived and executed to serve roles of both practicality and leisure. Of the former, the location was an ideal stopping point for his travels to and from Europe, where he could observe his naval fortress Kronshtadt and his capital St. Petersburg from a distance. Of the latter, it is telling that the very first palace to be built was named Monplaisir (My Pleasure).
It is particularly spectacular from late-May to mid-October, when the 147 fountains, all supplied by natural springs and quite the hydro-engineering feats of their day, are turned on. Actually, it is well worth visiting at any time of year and leaf-covered or snow-blanketed grounds make for a relaxing off-season country stroll, without all the crowds to contend with. Scattered over the immaculately manicured grounds are museums, cottages, bathhouses and even an aviary or two. Each of the residences reflects the tastes of their commissioners, as the tsars added to the complex over the centuries to suit their particular desires.
Just outside the gates are several other locations of note including the oldest watch manufacturer in Russia, the striking Peter and Paul Cathedral and adjacent imperial park Alexandria, with its humbler, but no less interesting history and outbuildings.
StrelnaKonstantinovsky
Palace
Once known as Putin's Palace, this palace is now one of the official Presidential residences. The Palace as also the venue for the G8 meeting in 2006. Historically speaking, the Palace's original owners were the Romanovs; however, after the 1917 Revolution, it fell into disrepair. Nowadays the public can enjoy the immaculate lawns. Inside the palace are spectacular views over the gulf and sumptuous meeting rooms with huge sparkling chandeliers. There is also a display of Russian paintings, decorative and applied arts from the 18th to the 20th century as well as a unique collection of fine wines. Note you must show your passport when you enter (this is also an official government building).