Sergiev Posad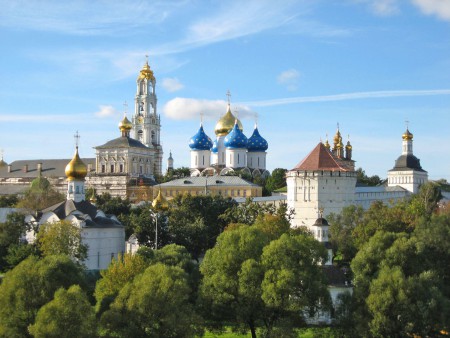 Holy Trinity St. Sergius Lavra
and the surrounding town of Sergiev Posad has been a place of pilgrimage for Russian Orthodox believers for centuries. Just one and a half hours by train from Moscow it makes a perfect day trip. If you want to make a weekend of it and soak in more of the provincial lifestyle and fresh air, there are plenty of
accommodation
options.
The lavra (lavra being an Orthodox term used to refer to particularly holy monasteries) was founded by St. Sergius of Radonezh (c.1321 – 1391) a monk who from childhood seemed destined for holiness. It is said that even as a baby he refused to eat certain foods according to the fasting days and that as an almost illiterate child he had a vision from a hooded monk who taught him to read the Bible.
As a young man Sergius set off to live his life as an ascetic monk in the forests outside Moscow. He was soon joined by others inspired by his pious lifestyle and eventually a monastery began to grow around the small wooden church that Sergius had built.
The monastery was destroyed a century later by the Tatars, but during reconstruction Sergius was canonised as a saint and the monastery grew in influence, size and power sprouting a large village supporting the monks who lived there and catering to pilgrims who came to see St. Sergius's relics. Today the lavra is constantly abuzz with religious pilgrims and Orthodox clergy who study in the lavra's seminary.
The town of Sergiev Posad is also famous in its own right as being the birth place of the Russian doll (
matryoshka
). Local artists from the region who lived under the patronage of the influential entrepreneur Savva Mamontov became enamoured of the round painted wooden dolls popular in Japan in the late 19th Century. They decided to create their own Russian version of the dolls and over the following decades the Sergiev Posad region became the centre of
matryoshka
production in Russia. To this day Sergiev Posad still has its own doll factory and is one of the best places to buy authentic high quality
matryoshki
.
For more on the history of the lavra and the life of the St. Sergius click
here
.