Novgorod basics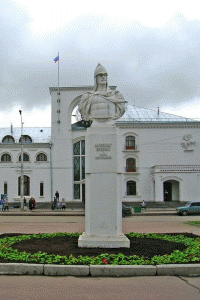 Krasnaya Izba
tourist information on Sennaya pl. which will further reduce your journey times within the city. Novgorodians themselves often prefer to travel by taxi. Going almost anywhere in town by taxi should cost you around 100-150Rbl.
The train station and bus station are located next to each other in the western part of the city. To get to the centre from the station take bus number 3, or alternatively you can walk down prospect Karl Marksa (it will take about 20 minutes).
Getting there from St. Petersburg:
There are many trains a day travelling to Veliky Novgorod in around three hours.
From St. Petersburg's Moskovsky station (metro Pl. Vosstaniya) trains depart at 07:11 (Lastochka express), 08:12 and 17:00.
From Vitebsky station (metro Pushkinskaya) trains depart at 07:40.
Trains return to St. Petersburg at 06:15, 08:05, 18:45 (to Moskovsky station) and 18:27 (to Vitebsky station).
In addition there are also numerous buses (journey time approx 3.5 hours) a day leaving from the bus station at Obvodnogo kan. 36.
Buses to St. Petersburg run hourly until 21:30. The journey takes around 3,5 hours and costs 370Rbl.
Getting there from Moscow:
There is one daily train to Moscow which takes approximately 9 hours and travels over night. It departs at 21:50 from Leningradsky station
(metro Komsomolskaya). Train returns to Moscow at 21:20.