Celica: Ljubljana's prison-turned Hostel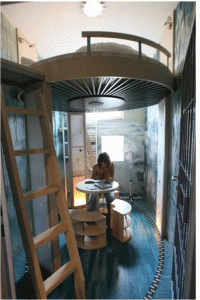 Lonely Planet
as the 'Hippest Hostel in the World' last year, Celica was formerly
a military prison
in the Metelkova army barracks. The building was erected in 1882 when the Austrian-Hungarian army built a military base here. The prison operated for over one hundred years, until 1991, when the Yugoslav People's Army withdrew from newly independent Slovenia, leaving behind the empty prison cells.
Ten years of planning for its restoration and transformation followed until the 'open-minded art centre', as its creators call
the hostel
, was completed.
The reconstruction of the building was conducted by more than eighty local and foreign artists who joined together to form a cultural and artistic group called
KUD Sestava
. After the conversion was completed, the hostel came under the management of a non-profit organisation, Zavod Šouhostel, which has been successfully managing it for over four years now.
Celica is the most modern youth hostel in Slovenia. Due to its unique design and structure, it is also something of a tourist attraction. Former prison cells have been converted into guest rooms in a unique way. Since
each room was designed by a different architect, artist or an artistic group,
no two rooms are the same.
All the rooms still have the original prison bars on the windows and doors, and besides from the twenty artistically designed and furnished cells, guests can also stay in standard dorms.