The Land of Celje!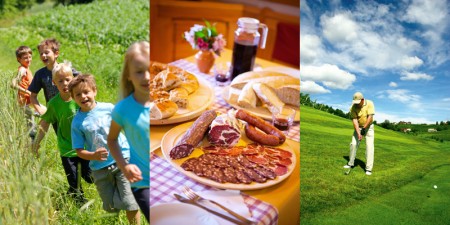 The countryside is populated with friendly locals, many of whom have opened their doors (and kitchens) to guests. A meal of homemade traditional cuisine at one of the region's tourist farms is a must for every visitor, and many also offer accommodation for longer stays. Don't worry about indulging on local cuisine, as there is also ample opportunity for activities and sport. Well-marked walking, hiking and cycling paths criss-cross the entire area, ranging in difficulty and length there are routes suitable for virtually everyone, many of which pass through pristine regional parks and unspoilt natural landscapes. During the winter months skiers can visit one of the country's premier ski resorts at Rogla in the Pohorje mountains, while in the summer several stunning golf courses are open as well.
The region's cultural and historical attractions also offer plenty of options. Celje was an important crossroad in Europe for centuries and home to one of the most powerful families in this part of the continent during the Late Middle Ages. Nowadays various castles, mansions, monasteries and medieval old towns are evidence of this rich history, and each has its own intriguing story to share with visitors. Regional museums, historical presentations, open air museums and smaller ethnological collections offer insights on how the people have lived here from the earliest settlements thousands of years ago up until modern times.
In the following pages we've covered the highlights of all there is to see and do in the Land of Celje, including a selection of our favourite places to eat and a comprehensive list of places to stay, from the largest hotels to the smallest private accommodation. Whether you're coming on a day-trip from a nearby city, a weekend away or a longer holiday, you'll be able to find everything you need to make it an unforgettable experience, and one that is sure to encourage repeat visits.