Slovenia's European Destinations of ExcelleNce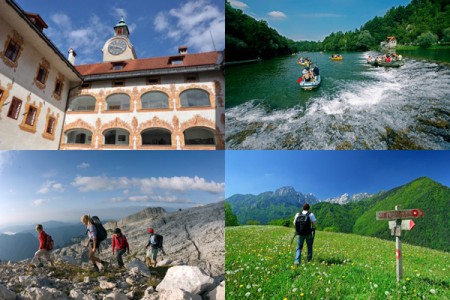 European Destinations of Excellence project
(even if it had to be finagled a little with the 'n' in Excellence used for the last letter), as the four Slovenian members of the group all boast paradise-like qualities - unspoilt nature, abundant wildlife, pristine rivers and a certain remoteness from the outside world.
The first to gain admission to the prestigious club was the majestic
Soča Valley
in 2008, which is centred around the turquoise waters of the Soča river as its path cuts through the rocky mountains in the far northeast of Slovenia, comprising a section of the so-called Emerald Trail.
On the opposite side of the country in the Kamnik-Savinja Alps, the
Solčavsko region
next got the nod in 2009. Famed for its photogenic valleys and breathtaking views, the region is perhaps more deserving of the label 'sublime' than anywhere else in the country.
In 2010, the meandering
Kolpa River
- often referred to as Slovenia's longest coast - was awarded with the distinction of excellence, not only for the attractions of the river itself, but also for the beauty and cultural heritage of the land through which it flows.
And last but not least, the town of
Idrija
became the latest Slovenian EDEN member in 2011. Most known (somewhat incongruously) for its mercury mine and traditional lacemaking, the town has actually developed a well-rounded tourism offer and is arguably the most accessible of the four destinations.
To finish on a personal note, we had an absolute pleasure travelling extensively in all the regions prior to and while researching this guide, and hope that the genuine fondness and heartfelt enthusiasm we have for each of them is readily apparent in the pages below.