Bakhchisaray In Your Pocket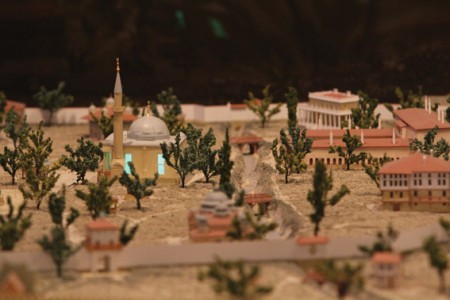 From ancient times there were several settlements on the territory of modern Bakhchisaray. At the time of the foundation of the city in the first half of the 14th century there were three main settlements of great importance. The first is the city-fortress Kirk-Er located on a mountain promontory. These days it is known as
Chufut-Kale
. The second is Salachik village in the valley at the bottom of Kirk-Er. The third is the village of Eski Yurt at the end of the valley. The village of Salachik was the capital of the Crimean Khanate until 1532. However, Sahib I Giray, the son of the Crimean Khan Mengli Giray, founded a new residence within 2 km of Salachik, calling it Bakhchisaray. Later a city grew around the Khan's new residence. In the Middle Ages, Bakhchisaray was a major trading and crafts centre in Crimea. 
In the middle of the 17th century, there were 2,000 estates in Bakhchisaray, about a third of which belonged to Greeks. In 1736, the town was burned down by the Russian army. All the existing buildings including the Khan's Palace, were built during the renovation of the city in the mid-18th century.
After the annexation of Crimea to Russia, Bakhchisaray became a small town near Simferopol.
Modern Bakhchisaray consists of three parts: Old Town, New Town, and new districts. Narrow streets with traditional Crimean houses of the Old Town are located in the valley of Churuk-Su River. The New Town is block housing built after WWII. The third part of the city was built in the 1990s by Crimean Tatars who had returned from deportation.
Bakhchisaray is a sightseeing city. Almost everyone who comes to Crimea visits the former capital of the Crimean Khanate. The main historical monument and tourist attraction is Bakhchisaray's palace of Crimean khans, or Khansaray. For those who have more time and desire to go hiking, Bakhchisaray and its surroundings offer plenty of choices, such as the ancient cave cities of Crimea.
But the town is more than just a small city near the Crimean capital, or a tourist destination, or the former capital of the Crimean Khanate. It has a lot of depth to it, and is a place we find truly inspiring. Josef Stalin's notorious World War II deportation of the entire Crimean Tatar population to Central Asia temporarily destroyed Bakhchisaray's status as a Tatar seat. Since the fall of the Soviet Union, however, native Crimean Tatars have found the strength to return to the capital of their former state. They are rebuilding their lives and establishing successful businesses. Besides the natural beauty and lower prices than you find in coastal Crimea, and besides the atmosphere of proud Tatar national identity, there is one more argument in favour of visiting Bakhchisaray: whenever you come here you'll be treated as a guest of the family, rather than just a customer.