Chornomorske In Your Pocket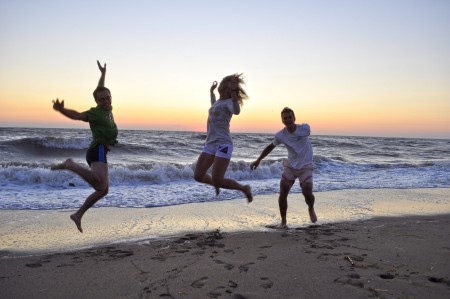 The first inhabitants of Chornomorske were the Greeks, who appeared on the shores of present day Uzkaya bay. This was during the Greek colonization in the 4th century B.C. They founded a city, Kalos-Limen, which was one of the most important centres of agriculture, and was under the rule of the ancient Greek city-state Chersonesos. 
During the times of Crimean Khanate, the Akmezdzhyd Liman settlement ( Ak-Mechet) was founded here.
At the same time period, according to archive documents, another village was founded. It was situated on the Tarkhankut peninsula and named Sheyhlar. For a long time both settlements were separately included in maps. But with the lapse of time Sheyhlar and Ak-Mechet merged into one settlement, Ak-Mechet, a name that lasted until the 20th Century.
After Crimean annexation to Russia, the lands around Akmechet Bay were granted to Count Voinovich, who commanded a squadron of ships in Sevastopol. In 1824 these lands became the property of Count Vorontsov, the governor-general of the Novorossiyk Territory. Most of the lands were used for grazing the Count's sheep and camels. Count Vorontsov built the stone pier and the Church of St Zachary & Elizabeth. In 1944, Ak-Mechet was renamed Chornomorske.
The sea and the wind have left their marks on the coastal cliffs of the Tarkhankut peninsula. The coastline abounds with shelters, caves and niches. The walls of caves and grottoes are covered with small brush stalactites, while the bottoms are littered with bizarre stone sculptures.
While Chornomorske and the entire region is not a tourist mecca these days, we believe that over time it will become one of the most popular resorts in Ukraine.