Simferopol In Your Pocket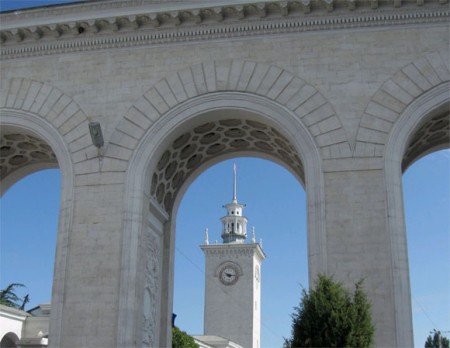 Then we did some research and were stunned... The city has a fascinating history and even if it only "officially" plays the main role on the peninsula, and looks a bit forgotten; it still can show visitors its hidden secrets and impress them with remains of passed glory.
As part of the development of Crimea, this guide gives you well gathered tourist information. You will be led through the accommodation options, the dining scene, and the must see attractions of the city. The largest part of this guide (i.e. hotels and restaurants reviews) was written during the winter time. We always try to make sure our information is accurate for you, whenever you visit Simferopol. During the summer season more hotels, hostels, restaurants, and cafes will definitely become available, especially on the seacoast.  
But let's go over some interesting history.
It generally believed that 1784 was the year Simferopol was founded. However, in 1927 a Crimean archaeologist, Sergey Zabinin, discovered the Missle Paleolithic human footprints that date back some 50-40 000 years. This fascinating discovery was made in a rather large cave, Chokurcha, in the Eastern part of the city. It appears to be the most ancient human site found yet in Crimea.
Much later, in the 3rd century B.C., Scythians founded a city on the small plateau in the Southeast part of the city. Ancient Greeks called it Neapol Scifsky (Neapolis), according to Chersonesos decree in the 2nd century B.C. and Strabon wrote about it in his 'Geography'.
This settlement lasted until the 3d century when it was totally destroyed by Goats. 
For a long time the site was deserted. In the beginning of the 16th century a Tatar settlement appeared near the old Scythian city. Known as Ak-Mechet (White Mosque), it soon became a very important centre for the Crimean Khans. In 1783 Ak Mechet consisted of over 300 houses and 7 mosques.  
Having annexed Crimea to the Russian Empire, Grygoriy Potiomkin the General-Governor of Malorosia (as the lands were then called) offered the Empress Catherine II to name the new city. This city would become the administrative centre of the entire peninsula. It was named Simferopol, which from the original Greek translates as 'the city of usefulness' or 'useful city'. 
In 1784 construction began and the first settlers were solders who had resigned from the Russian army. By 1802 Simferopol had become the centre of the newly created Tavrian Government. 
 After a long history of wars and revolutions, Crimea was joined to the Ukrainian Soviet Republic in 1954, and in 1991 the Autonomous Republic of Crimea was created, being a part of the Ukrainian Nation. 
Countries and armies, names and dates, languages and nationalities, everything has changed during last 250 years, yet Simferopol still remains the main city of the marvellous land of Crimea.