Yevpatoriya In Your Pocket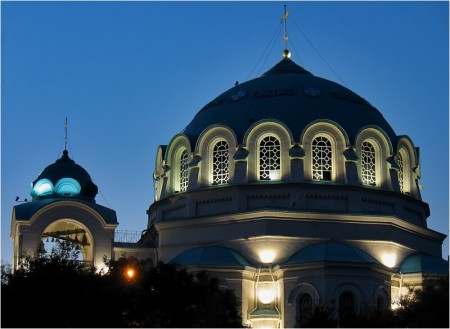 Kerkinitida
 is the most ancient name of Yevpatoria. In the 4th century BC Greeks from Miletus came on the shore of the modern territory of Yevpatoria. Presumably, one of the leaders in the new settlement was someone called 
Karkin
, after whom the settlement was named. The name was later changed to Kerkinitida. Hecataeus of Miletus, Herodotus, Pliny, and Mela mentioned Kerkinitida in their works.
The second name of the city was received from the Tartars. In 13th century, late at night on the shore of the Kalamitskiy Bay the Tartar horsemen appeared. They saw lights in the windows of the houses that appeared to them as huge eyes, winking pleasantly to tired riders. One of the Tartar horsemen cried out: "Gez", which means "an eye" and another added "ev" that means "a house". So the city was then known as 
Gezlev
. 
The present day name came from the Greeks again. During the winter of 108-107 BC, Diophantus defeated the army of the Scythian king Palak and entrenched his army in North-Western Crimea. To gain control over this part of Crimea, Diophantus built a fortress and named it in honor of Mithridates, 
Yevpator
.
Nowadays, Yevpatpria is well known for its beaches, which are famous for clean and soft golden sand, clear clean water and a gently sloping bottom.
Two Yevpatoria beaches even received an international certificate of quality "Blue Flag" and became the first in Ukraine to receive this quality certificate. 
The city lives its own special, sunny life, waking at night to open-air restaurants, bars, and falling asleep in the morning on the golden sand. After the high season period, open-air venues shut down and long autumn with rains and storms begins. Sometimes winter comes into the city. But mostly spring comes right after autumn, and primroses bloom in December. Yevpatorians again put in order the beaches and cafes and are looking forward to meeting and welcoming the new hot summer and flocking tourists.