Around Lypky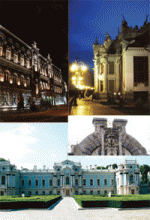 The National Bank of Ukraine
The building of the Ukrainian National Bank is over 100 years old. It was built in early Renaissance style and has survived revolution and two world wars. The griffons; emblems of Kyiv, Podillia, and Volyn regions; symbols of trade, transportation, industry, and agriculture on the outside of the building have remained intact and have not been changed since construction. While renovation and restoration has preserved much of he building's features, however, some have alas been lost. During the last period of renovation the aroma of roses – which emanated from the garden in the interior courtyard and was delivered to the rest of the building via a special ventilation system - was lost.


House With Hymers

This building was built almost one hundred years ago in an eclectic-modern style by Kyiv architect Gorodetsky, and is probably the most unique building in Kyiv. Gorodetsky devoted all of his free time to his passion for hunting. His dreams about the African savannah came alive in the wild forms of the structure. The sophisticated architectural forms are accompanied by phantasmagorical animal figures. The gigantic elephants' trunks serve as water drains. The rhinoceros, elephants, antelopes, gigantic frogs, and mermaids riding whales, are all made of cement. At the beginning of the 19th century cement was new in the building industry, and the owner of a local cement factory provided Gorodetsky with a free supply; in return he received free advertising of his product.
Gorodetsky made full use of the uneven Kyiv landscape. The building has three stories on one side and six on the other. Every floor has a separate apartment. The building was ahead of its time, and had an ice room for food storage, a wine room, a laundry room, and a barn for the horse drawn carriages In the basement he even placed a special room for a cow, so that the people living in the building would be able to have fresh milk every morning. Surrounded in mystery and legend, the building is itself a fairy tale, and the brightest page in the history of Kyiv architecture.


Greek Gods in Kyiv

Gorodetskoho st. 9 is the Mt. Olympus of Kyiv, covered as it is with sculptures of Greek gods. The goddess of fertility Demeter with a sheaf of wheat, god of fire Hephaestus with his hammer, goddess of wisdom Athena in a helmet with a sword and a shield, and god of trade Hermes with bag and a rooster watch over the city's inhabitants from its façade, as they have done for more than a century.


The Crying Widow's House

Liuteranska st. 23 was built in 1907 in a modern style and originally belonged to Poltava merchant Serhiy Arshavsky, and monograms of the first owner were placed over the windows on the front walls of the building; they survive to this day. Its most unique feature however is the face of sad woman carved from stone on the façade. During the rain the water runs down her face and it appears that the woman is crying. Hence the building's nickname "the house of a crying widow."