The Golden Treasures of Lost Civilizations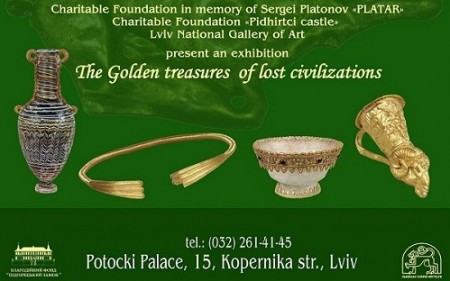 From
December 27, 2011
, Lviv hosts incredibly exclusive exhibition with a prominent name
"The Golden Treasures of Lost Civilizations",
which represents a collection of masterpieces of Ukrainian history. The collection includes rare, highly artistic articles of Greek craftsmen, household items, tools, weapon and unique jewelry of Cimmerians, Scythians, Sarmatians and other tribes, which inhabited the territory of Ukraine. The exhibition also represents rich collection from Roman Era, Byzantium and Kyivan Rus.
Particular attention attract a king's hryvna (a coin) from Scythian times and unique ecclesiastical objects and women jewelry from Kyivan Rus times.
Exhibits, which give you so exclusive opportunity to 'touch' a history belong to privat collection of Charity Fund 'PLATAR'.
This exhibition has been already seen in Vatican, Poland and the USA. It is the first time exhibition introduced in Lviv and it will definitely became one of the headliners of 2012 cultural events here.
Don't miss this chance and visit the exhibition to feel a mysterious spirit of the past!
Period:
27 December 2011 - 31 March 2012
Where:
Palats Pototskykh, Kopernyka 15, tel.: (+380) 32 261 41 45
Open:
10:00 - 16:00
Closed:
Mon
Admission:
20Hr, kids 10Hr.